What's the biggest problem or frustration you have when it comes to getting lean and ripped?
Give it some thought and then post it in the comment section below because tomorrow night (Thursday January 7th at 9:00 pm Eastern Standard Time) we are going to be having a true master of fat loss, Andy Pratt, joining us live on the Total Fitness Bodybuilding Talk Show at: http://www.LeeHayward.com/tv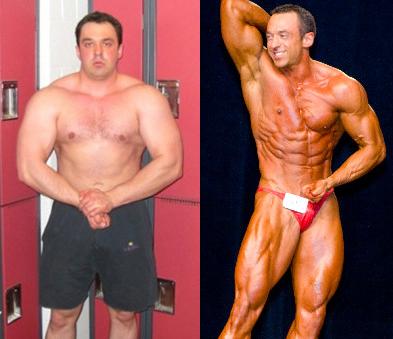 Andy Pratt's "Before" & "After" Physique Transformation!
Andy knows how to get ripped to the bone shredded better then anyone I know. Not only does Andy practice what he preaches, but he has helped countless people from average Joe's to top level pros get ripped in record time!
Andy has also created the Warrior Built Fat Loss System which utilizes boxing and MMA style conditioning drills into a killer rapid fat blasting workout system!
I'm going to get Andy to answer your questions live on the show, as well as share some of his killer physique transformation tips and tricks. So make sure to post your questions in the comments section below because they'll be answered on a first come, first serve basis.