You've tried doing it alone… Now try with a coach who has the
knowledge, experience & commitment to help you succeed.

As you read this page you're unconsciously putting yourself into one of two groups. Either you see yourself as someone who is already in pretty good physical shape but you want to take your fitness to a higher level. Or you are totally out of shape and are looking for a realistic solution to your problem, but you have doubts as to whether or not my program will work for you.
In either case, you can rest assured that you have come to the right place.
Why?
Because I've helped literally thousands of people from all over the world transform their bodies and take their fitness to the next level.
I've personally helped seasoned fitness enthusiasts get "Super-Fit" – as well as helping those who would classify themselves as overweight and out of shape – lose their excess bodyfat, gain strength, increase energy and begin enjoying an active lifestyle filled with confidence and power.

Let Me Help You Take Your Physique To The Next Level…
My Total Fitness Bodybuilding website has been online and helping people build better bodies since 1999. Those who follow what I teach get great results. But those who take the NEXT step and sign up for personalized coaching – well, they're the people getting extraordinary results!
Not just because they are using the very best "cutting-edge" training and nutritional strategies, but they know that there is a helping hand, day-in and day-out to guide them along the way. They know that one-on-one support and positive encouragement from an experienced coach is crucial to their success. As the saying goes, "No one succeeds alone."
When you sign up for a fitness and nutrition coaching program I'm literally going to guide you through the process of reaching your personal bodybuilding and fitness goals… Whether that's to Build Muscle & Lose Fat – Trim Down for a Beach Vacation – Or Go All The Way and Get Into Ripped Contest Shape!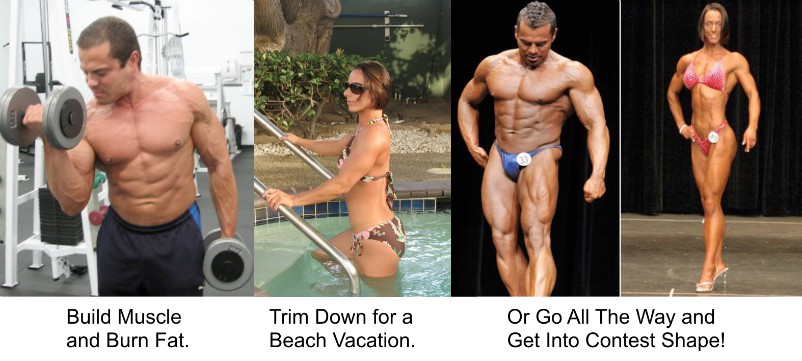 3 Levels Of Coaching That You Can Choose From...
I offer 3 different levels of coaching to accommodate your individual needs and budget.
---
Level 1 - Join The "Inner Circle" Coaching Club.
The first level is to become a member of the Total Fitness Bodybuilding "Inner Circle" Coaching Club. This is my private members only website where you'll get access to all my best muscle building workouts and e-books. Including the Workout Of The Month program.
You'll be able to chat with me and the other members through our private discussion forum. This is a great place to ask questions and share training ideas in a small and supportive environment.
If you're looking for an affordable option to get help and guidance with reaching your muscle building and fat loss goals, than I highly recommend that you join the Total Fitness Bodybuilding "Inner Circle" Coaching Club.
Price: $19.95 per month
==>> Click Here for more info about the TFB "Inner Circle" Coaching Club...

---
Level 2 - Get A Customized Diet & Training Plan.
The second level is to sign up for a Customized Diet and Training Program. For this you'll fill out a detailed questionnaire and from this information I'll personally design a customized program just for you.
You'll get custom weight training & cardiovascular exercise program based on your individual fitness level. Along with a detailed meal-by-meal eating plan with the specific foods that you need to eat in order to reach your personal muscle building and fat loss goals. Everything will be made to fit your specific body type and fitness goals.
This is a good option for more experienced lifters with at least a year of training experience and who understand the basic fundamentals of bodybuilding nutrition. But need more advanced training and nutrition strategies to get past plateaus and reach their muscle building and fat loss goals.
Price: $197 one time payment
==>> Click Here for more info about the Customized Diet and Training Program...

---
Level 3 - Advanced One-On-One Coaching Program
The third level is my Advanced One-On-One Fitness, Nutrition, & Lifestyle Coaching. This is an in depth program specially designed for people who are struggling to lose excess body fat. If you've ever tried to go on a diet and lose weight, only to re-gain it all back again, then this program is for you.
In this program you will develop healthy lifestyle habits so you can lose fat, build muscle, increase your strength, and have more energy... But more importantly - you'll learn how to maintain your results for life!
This Advanced Fat Loss Coaching Program dives into the mental and emotional aspects of getting in shape. If you're struggling with losing weight and getting in shape, then most likely you have some mental and emotional blocks that are preventing you from doing the things that you know you should be doing, or at least doing them consistently enough so that you can produce lasting results.
That's where this program differs from other plans you may have tried in the past. Rather than just giving you a "diet plan" and saying Eat This... We're going to re-wire how you think and feel about food in general by creating new positive mental associations and eating habits that serve to support you in reaching your health, fitness, and fat loss goals.
We take a reverse psychology approach. Instead of focusing on "eating less" and "avoiding bad foods" - we're going to focus on filling you up with high quality nutrition from natural wholesome foods. By filling you up with the good stuff, you'll naturally have less desire for the bad stuff, and it makes the transition towards healthier eating so much easier than taking the deprivation low calorie diet approach.
The best part is that you'll actually get more eating satisfaction with better food choices. In addition to that I'll personally follow along with your progress on a daily basis to simplify the process and keep you on track towards your fitness and fat loss goals.
Your program includes a custom nutrition plan with portion control. Custom workouts based on your exercise preferences and fitness goals. Grocery shopping & meal prep guide. Along with additional nutrition tips & tricks to help ensure your success. We'll start off small, focus on mastering the basics, and just take it one day at a time.
If you are fed up with being overweight and what to make lasting change, than I recommend that you sign up for this advanced fat loss coaching program.
Price: $97 per month
==>> Click Here for more info about the Advanced Fitness, Nutrition, & Lifestyle Coaching...

Just Check Out The Progress That My
Online Coaching Students Have Made...
"At the age of 40 Sean is now in the best shape of his life!"
Signing up for Lee's Total Fitness Bodybuilding Coaching Program has really helped to get me motivated, I'll be turning 40 this year and right now I'm in the best shape that I've ever been in my life... Thanks again!

Sean Wilson
Canada
---
"Martin got ripped six pack abs in just 90 days!"
My goal was to get leaner while also building muscle and I was able to accomplish that with Lee's help. I lost 11 pounds of bodyfat, 2 & 1/2 inches off my waist, while gaining 1/2 an inch on my arms and getting stronger in all my lifts.

Martin Sanchez
California
USA
---
"Bill lost 116 pounds in 2 years!"
I've lost a grand total of 116.2 lbs off of my heaviest weight of 318 pounds two years ago! I am living proof that Lee's advice works, not only did I finish a number of physique transformation challenges but I did what so many people, including my physician, told me that I would never be able to do again and that is walk and lift! Lee helped me prove them all wrong, I no longer have a feeling of helplessness and the greatest thing is that I am now in a position to help others walk the same path that I have!

Bill Moore
USA
---
"Mother of 3 Lost 77 Pounds In 1 Year!"
I found out about Lee Hayward's coaching program and began to include weight training as part of my routine. I learned through Lee's educational videos and programs about how to lift weights properly and this helped me lose a total of 77 pounds while gaining lean muscle tone. In just 1 year I went from 210 pounds to 133 pounds.

Melinda Allen
Louisiana
USA
---
"Lost 18 pounds and 5 inches off his waist in 90 days!"
I originally found out about Lee Hayward through his YouTube videos and decided to sign up for his coaching program because I knew it would motivate me to get in shape. The diet and training program worked very well and I achieved results that I never thought I'd achieve. I am really pleased with the progress I have made.

Stuart Booth
United Kingdom
---
"Adiel Lost 26 Pounds Of Bodyfat In 90 Days!"
During the past 3 months I have lost 26 Lbs of bodyweight and reduced my bodyfat by 7%. I have worked extremely hard and am very proud of my accomplishment. And I'm very grateful for the motivation and assistance provided by Lee and the Total Fitness Bodybuilding Inner Circle.

Adiel Rozinov
Canada
---
"Gained 43 lbs. Of Muscle In 6 Months!"
In just six months of following your advice my lifts have more than doubled and I have gone from 155 lbs. to 198 lbs. That's 43 lbs. of lean mass gains!

Thanks again Lee for all your help!

Phil Clayton
Jacksonville, Florida
USA
---
"Won The Overall Title In 5 Bodybuilding Competitions!"
With Lee's help I entered my first bodybuilding competition in 2001 and have since competed in 7 bodybuilding contests, winning the overall title in 5 of them. By working with Lee I have learned so much about proper training and nutrition. Lee is very knowledgeable and always takes the time to answer my questions and explain everything so it is simple and easy to understand.

Patricia Crocker
Canada
---
"Lost 64 lbs. Of Bodyfat In 21 Weeks!"
Lee helped me to prepare for my first bodybuilding competition. I started my contest diet at 242 lbs. and with the help of Lee's customized diet & training program I lost 64 lbs. and got into the best shape of my life.

Cheers!

Doug Croft
Canada
---
"Alejandro Transformed His Physique In Only 4 Months!"
I found out about Lee through his YouTube videos. The thing I really like is how he explains things and makes everything seem easier, rather then making things more complicated like the way most trainers do.

I started following your program 4 months ago and I started to see changes. Now maybe for some people it doesn't seem like much, but for me it was an amazing feeling because I've never been in this kind of shape before, not even when I was playing basketball as a teenager. Seeing good results like this just motivates me to push myself even harder, and I look forward to every day of my life.

Alejandro Buzzi
Austria
---
"Brad's 10 Month Muscle Building Transformation!"
I began watching Lee Hayward's YouTube videos and I decided that I wanted to do natural bodybuilding. With Lee's coaching I transformed my physique to 190 pounds of muscle in only 10 months of hard work. I really like Lee's approach. He gives you specific workout & nutrition methods that produce results.

Brad Kelly
Panama City, Florida
USA
---
"50 year old grandmother lost 5 inches
from her waist in just 90 days!"
I am so pleased with my results. I lost 12.5 lbs and 5 inches from my waist line which I am so excited about. I had to invest in a new wardrobe because all my clothes are too big for me now. I feel better now at 50 years old than I did at 40 years old.

Doreen Shapter
Canada
---
"Esop's 90 Day Physique Transformation!"
Being part of Lee's coaching program has helped motivate myself to work out and eat right. For the past 3 months I followed Lee's program of lifting weights 3x a week doing mostly compound lifts – squats, deadlifts, bench press, military press along with cardio and diet. I was able to lose a lot of fat and get much stronger in all of my lifts and I am very happy with my progress.

Esop Baek
USA
---
"Joe lost over 20 pounds of bodyfat!"
I finally had the confidence to wear a tank top at the gym last week and got a tremendous amount of complements. Quite a few people were shocked so I must be doing something right and making progress 🙂

Joe Abeleda
USA
---
"78 year old trimmed 7 inches from his belly,
while gaining lean muscle in just 90 days!"
I enjoyed every minute working out under your expert advice, Lee. I am introducing and suggesting this as one of the best training methods of all time to any one, who wants to transform quickly his or her body.

Aimo Ruoho
Spain
---
"Kevin Totally Re-Shaped His Body In Just 1 Year!"
After watching a few of Lee's youtube video's I went to Leehayward.com and purchased a personalized bulking plan. I faithfully followed Lee's advice with my eating and training and I was able to put on a great deal of lean muscle. Since then I have inspired many of my co-workers to improve themselves as well. I cannot say enough good things about Lee and everything I have learned over the last year.

Kevin Borchert
Arizona
USA
Not Sure Which Coaching Program Is Right For You?
Find Out With A FREE Phone Call With Lee Hayward...
If you've read this far, than you're probably interested in my Online Coaching, but you aren't quite sure if it's right for you. It's totally normal to have questions and doubts about what's the best approach for you. That's why I invite you to join me for a FREE 20-minute one-on-one phone call (or skype chat) where we can privately discuss your situation, your fitness goals, and the challenges that you feel are holding you back.
During our phone call (or skype chat) you'll get your questions answered and we'll discuss some realistic strategies for how you can start making progress towards your muscle building and fat loss goals.
This initial consultation is absolutely FREE, there's no strings attached, and no obligation on your part. It's just an opportunity for us to get to know each other better and see which one of my online coaching programs is best for you and your fitness goals.

Register For Your FREE 20-Minute Phone Coaching Call...
Just fill out the form below to schedule your FREE 20-minute personal phone call with Lee Hayward.
These sessions are short but yield great results. To make the most of our time together, please complete the questionnaire. The more information you provide, the more powerful our time together will be!
After you fill out the form I'll contact you via e-mail within 48 hours and we'll arrange a time to chat that's convenient for both of us.
---