What do women want?
"The only thing I have learned in fifty-two years is that women want men to stop asking dumb questions like that."
― Sigmund Freud
---
I think old Sigmund Freud was right in his assumption. Trying to figure out the complexities of a modern woman is about as futile as searching for the meaning of life, or trying to understand the ingredients on a package of hot dogs.
I mean why waste your time trying to understand the unknown, when you don't even understand that which you know? (Enough Said)
However, just the other day I did discover 1 thing in particular that women want that maybe of interest to my fellow muscle building fitness fanatics…
I was skimming through a old copy of Muscle & Fitness as I was doing a light cardio session after my weight training workout.
=======================================
Note:
I like to perform at least 20 minutes of easy cardio after my weight training as a cool down. This helps the body to get rid of lactic acid build up in the muscles, speeds up recovery, while burning off some excess bodyfat at the same time.
=======================================
Anyway, as I was flipping through the magazine, scanning pages of over hyped supplement ads and re-hashed workout programs, one thing in particular caught my attention. It was one of those little "Tid Bit" information articles that they often post at the beginning of the magazine.
This one had the title: "What Women Want"
Now this wasn't some corny pick up artist trick, like you would normally associate with such an article title. But rather this article shared the results of a survey they did with their female readers as to which body parts gave women The Most Viewing Pleasure when looking at a man.
(And just in case you are wondering they left out "Mr. Happy" from the list of body parts).
The results are posted below…
Obviously, I re-created their chart using my photo to show the various body parts.
I mean after all what woman wouldn't want me LOL 😉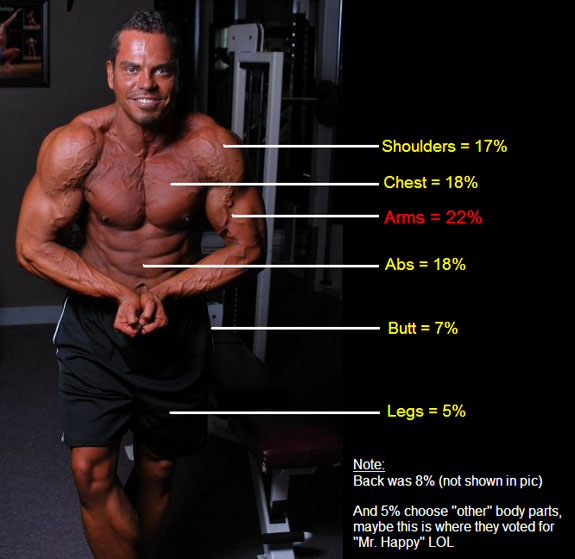 The results of the Muscle & Fitness survey were:
Arms = 22% (The number #1 Body Part that gave women the most "Viewing Pleasure")
Chest = 18%
Abs = 18%
Shoulders = 17%
Back = 8%
Butt = 7%
Legs = 5%
"Other" = 5%
I was actually surprised to see arms ranking so high as a woman's favorite body part on a man. But it's just some extra motivation for you to go out there and build yourself a set of sleeve stretching muscular guns. I guess they are right in saying "Curls For The Girls".
And if you need some help in building a set of ripped muscle arms, I've got the solution for you because I've literally wrote the book on the topic of Arm Training with my "Blast Your Biceps" program.
This is a complete Mass Building Arm Specialization Training System that will help you pack on as much as 2 inches of solid muscular mass to your upper arms in as little as 8 weeks. And this program covers much more then just arm training. In fact, it's a complete training system that will help you get bigger and stronger in all your major muscle groups in record time.
So if you are stuck in a rut with your current arm training program and would like to kick things up to the next level… Just head on over to www.BlastYourBiceps.com and download your copy of the "Blast Your Biceps" Mass Building Arm Specialization Program!
The ladies will thank you for it… 😉

www.BlastYourBiceps.com