Valentines Day is the perfect time to express your love in a romantic way. But please don't be plain, boring, and predictable. You aren't going to win the love of your valentine with a box of store bought chocolates and a generic hallmark card.

Instead show that special someone you really care by making her a batch of healthy, sexy, and seductive valentines day chocolates.
Click PLAY To See How They Are Made…
Note: if you are on an iPad and can't watch the embedded video clip above,
you can watch it right on my YouTube Channel by Clicking Here
---
First, we'll start with some dark chocolate…
Pure Dark Chocolate has a centuries old reputation as an aphrodisiac. And it's a very healthy "Super Food". In fact, ounce for ounce, dark chocolate has more antioxidants than foods like blueberries, green tea and red wine.
Chocolate contains more than 500 natural chemical compounds, some of which have been categorized as mood-elevating and pleasure-inducing. One of those is phenylethylamine, this compound is responsible for some of the pleasurable feelings you get after eating chocolate, because it releases natural endorphins in your brain.
Phenylethylamine is one of the feel good hormones that's released when people fall in love – and when they are making love. This could explain why chocolate and Valentines Day are so closely linked.
Dark chocolate also sparks dopamine and serotonin production in the brain. These are act as anti-depressants and have a calming, feel good effect on the body, while promoting blissful emotions. All of which are beneficial when trying to set the mood with your significant other.
Care for a piece of dark chocolate right about now?
---
Step One…
Melt some dark chocolate in a sauce pan over medium heat.
Step Two…
Pour the melted chocolate into a heart shaped baking tray.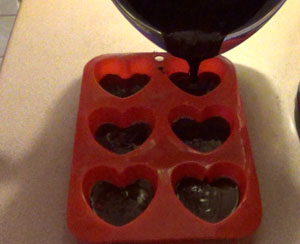 Because I'm a hopeless romantic I went all out to find
this particular heart shaped baking tray at the dollar store 😉

---
The second ingredient on our list, is raw almonds…
Almonds are my favorite nut. They are an ancient symbol of fertility extending back to Biblical times. Almonds have often been a popular ingredient in lotions and potions.
The sweet fragrance of almonds serves as a sexual attractant. The aroma supposedly arouses passion in females — or so thought the poets and scribes of bygone eras.
French writer Alexandre Dumas, the author of The Count of Monte Cristo, dined on almond soup every night before meeting his mistress. And it was said that Samson wooed Delilah with these tasty nuts. So we're going to take a few of thing little gems, and place them in with our dark chocolate in the heart shaped baking tray.
---
Step Three…
Place a few almonds in with each of the dark chocolate hearts.
After that, put the chocolates in the refrigerator to let them cool & harden.
---
Now if you have ever eaten dark chocolate before, then you know it can have a slight bitter taste. So to add some sweetness and an extra dash of love to our seductive valentines day treat, we're going to drizzle our heart shaped chocolates with honey!
The third ingredient on our list, is honey…
Honey is known as the nectar of Aphrodite (the Goddess of love).
Sticky, runny, buttery-texture, and deliciously sweet. Honey is as much a sensual experience as it is a delicious indulgence.
Where do you think the word honeymoon came from?
In ancient times it was traditional to present the newlyweds with honey to help them enjoy their first sexual encounters and aid them in procreating a child.
The use of honey as an aphrodisiac is also mentioned in the Kama Sutra. Where it is said that honey spiced with nutmeg will heighten an orgasm!
---
Step Four…
Drizzle some honey over the heart shaped chocolates!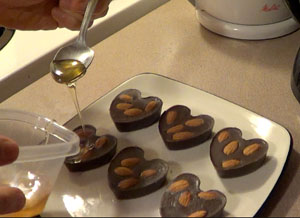 The honey is optional, but makes for a nice added touch.
---
Quench your thirst with red wine…
And finally, to quench your thirst while enjoying these romantic valentines day chocolates. Pour up a couple glasses of red wine.

In moderation, red wine increases blood flow, relaxes you, and lowers inhibitions. Red wine is said to imitate the scent of sexual pheromones. And the chemical compounds present in red wine have been shown to increase blood flow to the erogenous zones.
This valentines day, drink to a healthy sex life with a glass of red wine!
So there you have it, the perfect recipe for a Romantic Valentines Day. I encourage you to make a batch of these healthy, sexy, and seductive heart shaped chocolates. And please feel free to share a testimonial in the comments below as to the effeteness of these natural aphrodisiacs 😉
Enjoy!
---
To learn more about the nutritional & health benefits of Dark Chocolate, check out this article: Sweet, Dark, And Mysterious: Unveiling The Benefits Of Dark Chocolate