Total Fitness Bodybuilding Fat Loss Transformation!
There's nothing I enjoy more than hearing about the success stories of my online followers. And today I've got a good one to share with you…
This spotlight is on Joe Lewis. Joe lives in Australia and has been working out and following Total Fitness Bodybuilding for the past year.
During this time he has lost 49 kilograms (107 pounds) and totally transformed his health and fitness!
Joe has been keeping in touch with me and sharing his progress via e-mail ever since he started. Below you can see just how much progress he has made in a relatively short period of time!

Hey Lee,
How ya doin? My name is Joe Lewis. I'm from Australia and I found your videos on YouTube. I started at the gym about 4 weeks ago and was looking for a workout program, so I did a google search and came across a link to your YouTube page. Anyways I've been following your workouts for 4 weeks and have seen amazing results so far. I just want to thank you so much for taking the time to put these on YouTube. I'm addicted to working out now and there is no turning back!
Much appreciation Lee Hayward – YOU DA MAN!!
Joe
===========================
2 Months later I received another e-mail from Joe…
===========================

Hey Lee,
It's Joe Lewis here again I emailed some months ago and I'm 20 kg off my goal weight. I even have some veins showing up that I've never seen before and I have so much energy and confidence. I was pretty negative before and now my whole life has changed. I never thought fitness could mean so much. I can't thank you enough for taking the time out to film and upload your workout videos. I'm estimating in another 3 months some definition will be starting to appear. So yeah once again thanks so much YOU DA MAN!!
Joe
Note: Joe edited this progress picture and sent it to me.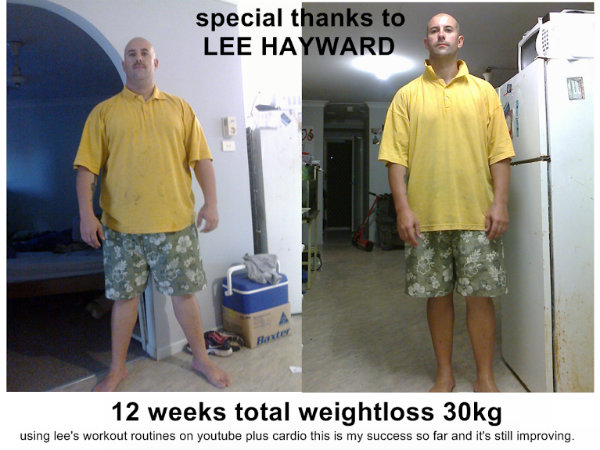 I'm really proud of Joe for taking action and sticking to his fitness routine. He is "DA MAN" because he is the one doing all the work. I only offered workout tips and advice, but he is the one putting that advice to work day in and day out!
Joe kept focused on his fat loss goals and ended up losing a total of 49 kilograms.
Going from 145 kilo to 96 kilos in less than a year!
Here are several more progress pictures that he sent me during his fat loss transformation…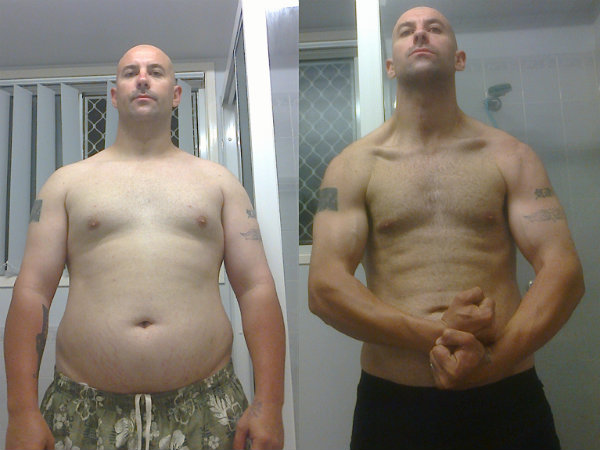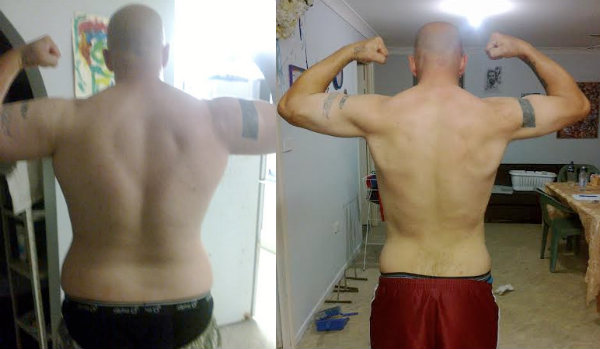 While the "Before & After" pictures are very impressive. The biggest improvements for Joe has been the strength and energy he has gained since losing the weight. He works a physically demanding job as a bricklayer and was finding it harder to do with all the excess weight he had.
At his heaviest weight of 145 kilos Joe could barely run for 30 seconds. But now he regularly runs 10 kilometers at a time for his cardio workouts in addition to lifting weights 6 days a week!
————————————————————————————
I feel that nothing is impossible when you put your mind to it. My advice to anyone out there wanting to lose weight and tone up is don't talk about it, just do it!
Joe Lewis
————————————————————————————
I'm very proud of Joe for what he's achieved. He's a real example of what "Total Fitness Bodybuilding" is all about, which is living a healthy lifestyle and using bodybuilding as a means of getting in your personal best shape and living life to the fullest.
I want to personally thank Joe for letting me share his success story with you.
It's an inspirational example of Real People Getting Real Results!
---
P.S.
If you have been a regular follower of Total Fitness Bodybuilding and have a success story that you'd like to share, please let me know in the comments below and I'll get in contact with you.