The highlight of my day is when I get to hear about the success stories of my coaching students. It helps re-assure me that all time and energy I put into making videos, customized meal plans, workout programs, coaching calls, live Q and A's, etc. is actually making a difference in people's lives.
Today I have an inspirational story to share with you. It's about a man named Bill Moore who turned his life around and lost 116 pounds in 2 years.
Bill's story will really hit home for a lot of guys over the age of 40 who get caught up with the stress of day to day life – advancing in your career, raising a family, etc. while very often neglecting the most important person in your life – YOU…
When this happens very often your health and fitness falls to the wayside. But when you zoom out and look at the big picture you'll see that your health is the most important thing you have. If you are not making your health a top priority then you won't be around long enough to enjoy the rest of what life has to offer. You won't be able to provide for your family and give them the life they deserve. Bottom line, you need to take care of yourself in order to be able to work, provide for your family, and be the man that they need you to be.
I encourage you to read Bill's story because it relates to what a lot of people are going through. And if you know of someone personally who could benefit from this, please feel free to share it with them.
---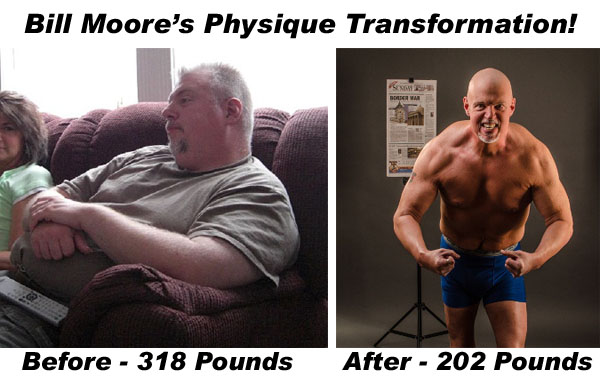 I have waited for this day; the day I could tell my story! Miracles come in many forms; however, the most rewarding phenomena are those that require personal effort. I believe in Miracles because I now live one daily!
I was at the end of my rope…
– I weighed 318 pounds.
– Blood Pressure was 190/105 mm Hg (normal is 120/80)
– Glucose levels were 129 mg/dL (normal is less than 100) which meant I was crossing the line of becoming a diabetic.

And to top it all off I had been diagnosed with a debilitating form of psoriatic arthritis. Life was not going well… My hands feet and wrist were swollen and deformed, and the mobility in my neck, arms, and legs had been reduced by 75%.
My doctor informed me that if I continued on this path I would end up in a wheelchair within five years. He even prescribed pain medications that would help me cope and hopefully slow down some of the deterioration.
After my doctor's diagnosis I was in shock;
"How could this happen to me, I used to eat fairly well and workout on a regular basis?"
I knew I had no one to blame for this condition but myself, years of inactivity and unhealthy eating habits had taken their toll. I had spent over eight years of my life on the road as a successful medical device sales representative. Unless one uses great caution, it is very easy to develop extremely unhealthy habits while on the road.
My weight had skyrocketed to 318 pounds, and even on days when the arthritis wasn't keeping me from being able to move freely, my obesity was! I was buying new suits every few months due to my increases in size but never really paid any attention to it until the day I could not move – that was my wake up call…
One afternoon I was at home alone and went into the walk-in closet to grab a new bottle of Aspirin. At the time I was eating Aspirin and Tylenol like they were candy to try and take an edge off the pain. After finding the pill bottle my stiff arthritic hands dropped it and it rolled under the shelf in the closet. I slowly got down on my knees to retrieve the bottle, just getting down on the floor and reaching for the bottle proved to be quite a physical experience, but nothing could have prepared me for what happened next…
Once I had the bottle of Aspirin I couldn't stand back up, no matter how hard I tried I just could not get up! I struggled just to try and get myself up from all fours at least up to my knees, but no matter how hard I tried I could not get up. Things got worse from there because I thought that maybe I could use one of the shelves to help pull myself up. I knew that at my weight it probably wouldn't hold, but I had to do something. I wound up breaking the shelf and pulling everything down on me. That was the first time I realized just how far I had let myself go.
I started sobbing like I had not done since the death of my grandpa. My wife was due home in forty-five minutes and I did not want her to see me like this! So I thought maybe that I could crawl into the bedroom and use the bed to get back on my feet, I crawled into the bedroom and still couldn't pull myself up, due to the fact that our bed was so high. And then what I feared most happened, my wife came home to find me crying and laying helpless on our bedroom floor.
She helped me up and held me but then she looked me in the eye and with a stern yet compassionate voice she told me that I had to lose weight and start taking better care of myself so this would never have to happen again – This was the wake up call that I needed. Things were going to be different from here on out!
I started eating better and eliminating in between meal snacks. I started to see the weight come off slowly, at first it was nothing to get excited about but it was progress. I dropped from 318 to 310 in about a month; following that I went to 290 in another month's time, and by the end of summer I was down to 260 pounds. But I knew that it would take more than diet alone to get to my goal of great health. I had to incorporate physical activity along with healthy eating habits.
The desire to change my condition provided motivation; however, that motivation was somewhat negative in form. I needed some positive motivation to keep me on track, something that would help me move forward with desire, rather than just the fear from having poor health. And one day while out shopping I found that positive motivation. I went into one of the local supplement stores and they had a promotion for a physique transformation challenge so I picked up one of the brochures.
I was realistic about this challenge and it didn't matter if I won or not, the main thing was that it provided me with goal to work towards. Their slogan was "If You Finish, You Win!" I believed it and that Physique Transformation Challenge provided me with drive I needed in order to stay motivated.
However, starting a workout program was no easy task, there was so much preparation involved and I was very rusty. But one thing that definitely helped me with planning my workout routine was finding out about Lee Hayward.
The first thing I came across were Lee's YouTube videos that laid out dumbbell workouts for every part of the body. That was just what I needed due to the fact that I was working out at home and dumbbells made up the majority of equipment that I had.
Being rusty I needed some refreshers on proper exercise execution so that I would not injure myself and make matters worse, Lee provided videos on proper form and range of motion. I literally felt as if I had my own personal trainer, and I did!! I also found myself, for the first time in my life, taking someone's advice to heart, I wasn't out to break any records, all I wanted was to feel better so I did exactly as Lee instructed and used a weight that I could control and perform the exercises with properly.
I must have watched the chest and triceps dumbbell videos three times a day until I could recite them in my sleep. The awesome thing was that I witnessed my strength increase naturally without trying to push things, actually increasing at a rate quicker than what I previously remember. In no time at all, about sixty days I was doing dumbbell bench presses with 50 pounds in each hand, which is not bad when you consider that I had to start with ten pounds in each hand!
I signed up for Lee's bodybuilding training and nutrition program and I truly believe to this day had it not been for the information that Lee provided I would not have made the gains or been able to restore my health in such a way as I have been able to do! I was blown away by Lee's commitment to his students and his commitment to practicing what he preaches is evident in that he is more concerned with helping people change their lives than making a dollar!
I am living proof that Lee's advice works, not only did I lose the weight – but I did what so many people, including my physician, told me that I would never be able to do again and that is walk and lift! Lee helped me prove them all wrong, I no longer have a feeling of helplessness and the greatest thing is that I am now in a position to help others walk the same path that I have!
I've lost a grand total of 116.2 lbs off of my heaviest weight of 318 pounds two years ago! My blood pressure reading is now consistently at 120/75 mm Hg and my glucose readings are normal, consistently under 100, no more sharp stabbing pains. The psoriatic arthritis has left its mark and I still have to work through pain at times. However, the arthritis is in remission, my hands and feet are no longer swollen and I enjoy more pain free days than days filled with pain.
Everyday I suit up to exercise whether I am pushing iron or doing cardio; I know that every day I do so I am one step closer to a completely disease and pain free life! I did all this through proper diet, exercise and natural supplements – NO MEDICATIONS!
I feel amazing, as if I added 50 years to my life, I am very proud of my accomplishments and know that the best is yet to be. I plan on using my victory to help others suffering with disease to turn their dreams of health into reality. My story can convince many that they can turn their lives around. I am determined more than ever to keep going, I know have the discipline and I will live the rest of my life in RELENTLESS pursuit of excellent health!
I have since decided to become a certified personal trainer myself and have started the ball rolling in that direction. I want to help others as Lee Hayward has helped me. I desire to see people who perceive that they have disabilities overcome their fear and live happy productive lives. I know that I have been called to inspire people to live healthy and happy, for themselves, as well as their loved ones. I desire to serve, to remind others that no matter how bad the situation looks, there is hope as long as we will reach upward and fight!
I have been able to share my story with hundreds of people and to this day have numerous people in contact with me throughout Missouri and Arkansas inquiring as to how I was able to restore my health. I am already helping people take control of their health in places such as Springfield, Cape Girardeau and St. Louis Missouri, as well as Mountain Home Arkansas. There is a quote by David L. Weatherford that states: "You never stand taller than when you stoop down to help someone who has fallen".
A month ago I thought that I was standing tall due to what I had physically accomplished in my life. However, that feeling pales in comparison to what it feels like to help someone else who is in the type of condition or a worse condition than what I used to be. Before I had the physical and somewhat mental satisfaction of a job well done, a mountain climbed!! Now the feeling I have is one that makes me whole, it affects not only the physical and mental side of a person but the spirit and the heart. My journey is one that is now beginning to lift others, the path that I have cut will soon have other footprints upon it and that makes me feel taller than any selfish accomplishment I could ever dream of achieving!
To hear hope in someone else's voice is one of the most beautiful things that I have ever heard; however, to know that my story put that hope there is the most humbling and satisfying experiences that I have ever encountered!
I had to come up with my own rule for inspiration, on days when I wasn't seeing the results that I wanted to see I would go back and read something that I wrote at the beginning of the challenge: "Keep Going Forward, No Matter How Slow You Seem To Be Traveling. For One Day You Will Look Back From The Top Of The Mountain!" ~ Bill Moore
I am now on top of that mountain! Even though I have much more that I want to accomplish personally concerning my physical condition, the feeling of inspiring others has taken me to a place higher than any I had ever imagined!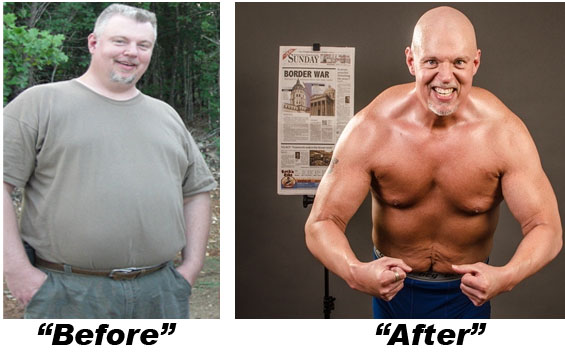 In just 2 years Bill went from fat, depressed, worried for his health… To now living life to the fullest as a healthy, lean and active man. He's a better husband, better father, and better person all around – because he choose to make his health and fitness a priority.
If you would like some help to re-gain control over your weight, health, and fitness – just let me know and we can schedule a time to chat and come up with a realistic action plan that's right for you… Click Here to book a Free 10-minute Strategy Session Call.
---