There's nothing I enjoy more than hearing about the success stories of my personal coaching students. And today I've got a good one to share with you…
This one is from a 56 year old man, Rick Watkins, who just competed in his very first bodybuilding competition and won FIRST PLACE in his weight class!
Below is the exact post that Rick shared
on my facebook page: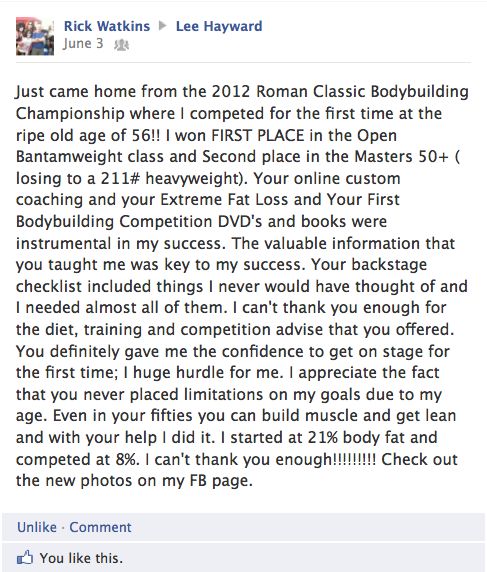 I'm very proud of Rick for what's he's achieved. He's a real example of what "Total Fitness Bodybuilding" is all about, which is living a healthy lifestyle and using natural bodybuilding as a means of getting in your personal best shape. It's not so much about competing, but rather living life to the fullest.
I really want to share this success story with you because it's an inspirational example of
Real People Getting Real Results!
---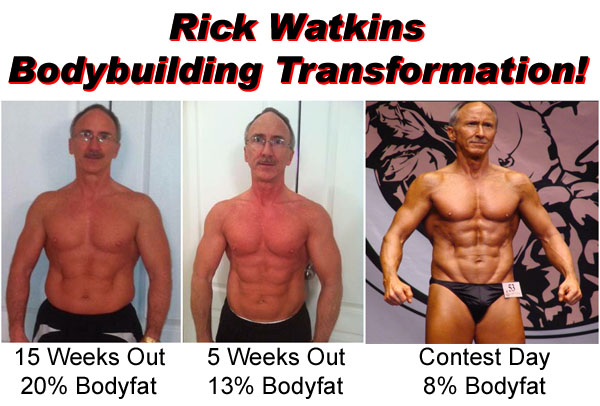 E-mail that I received from Rick Watkins
June 10, 2012
I've always been active beginning with high school gymnastics and wrestling, college wrestling and martial arts. For many years I've worked out trying to follow the magazine routines of pro bodybuilders with poor results. Looking back I've probably been in a state of overtraining for over 20 years. Being an ectomorph I thought I was doomed to be skinny all my life. I was the only high school wrestler who was on a Weight GAIN Diet, weighing only 92 pounds. In my 20's my weight jumped to about 115 pounds and in my 30's it jumped again to about 130 pounds where it stayed at that level for many years. All attempts to build muscle seemed to fail.
Jump forward to my 50's with the internet now available, I found Lee Hayward on YouTube and began watching his videos and reading his website. I read every article available and started following his Bodybuilding Nutrition Made Simple e-book. I also began to follow some of his workout videos and began to make progress. I decided to sign up for his Online Custom Coaching Program.
Following Lee's custom workout program and diet, I was able to gain up to 150 pounds and put on some solid muscle mass. For me this felt amazing after 30 years of very poor results. The solutions were in my hands the whole time. People at my local gym began to notice my muscle gains and compliment me on my success.
For Christmas my wife purchased the Extreme Fat Loss Program and Your First Bodybuilding Competition Program. I never seriously thought I would compete, but I had always wanted to try to get ripped. Following Lee's cardio and diet advice, I began to drop the body fat and the compliments at the gym began to pour in.
Random strangers started coming up to me telling me that I looked amazing. Very weird for me but I'll have to admit I loved it. Some of the guys who had competed in bodybuilding shows started telling me that I should compete and I started giving it some serious consideration. My body fat had plateaued at 12% and with Lee's help I began to slowly drop even lower. After a lot of encouragement and compliments, I decided to enter my first bodybuilding competition at the ripe old age of 56. Talk about getting a late start.
All the information that I needed was in Lee's courses, from what to wear, to how to tan, to how to pose. He helped me diet during the peak week and his backstage checklist of things to bring was invaluable. I needed almost everything on the list. With Lee's help I felt really prepared and was able to accomplish a lifetime goal which would have been way out of my comfort zone without Lee guiding me.
Drum roll please…
And now for the results: I won FIRST PLACE in the Men's Open Bantamweight Class, beating guys in their 20's and 30's and SECOND PLACE Masters Over 50 class, losing to a 211 pound heavyweight who had competed many times. Unbelievable results for a first time competition at the age of 56!!!
On competition day my body fat percentage was down to a ripped 8% and I can't thank Lee enough for the invaluable help he has offered. I never thought I could gain a decent amount of muscle at my age. Most people I had talked to began with "At your age…" and proceeded to list limitations. But Lee never did this. He only encouraged me and offered support and priceless information.
I'm positively convinced that at any age, with Lee's help you can get unbelievable results if you are disciplined and determined. Thanks again Lee. Best money I ever spent.
Lee, you ARE the man!!!!
Rick Watkins
---
2019 Update On Rick's Progress!
Who Says You Can't Gain Muscle In Your 50's and 60's…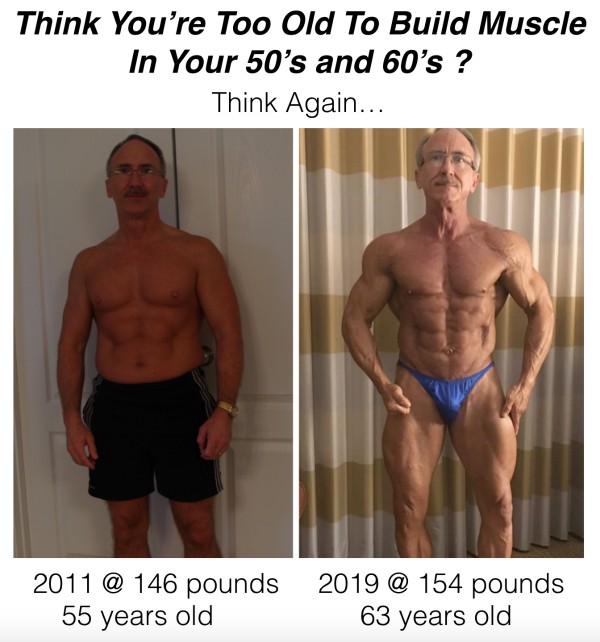 Rick recently shared this comment on my blog…

While I may have helped Rick get started with bodybuilding, he's an inspiration to me now. I hope to be able to do what he's done and build an incredible physique into my 60's and beyond. Rick's example shows that age is only a number and it's never too late to get in awesome shape!
If you would like some help to re-gain control over your health & fitness and get into your best shape ever – just let me know and we can schedule a time to chat and come up with a realistic action plan that's right for you… Click Here to book a Free 10-minute Strategy Session Call.
all the best,
Lee Hayward