Today you're going to get a guest blog post from one of my online followers – Adam Foster.
Adam has been following the Total Fitness Bodybuilding Blog and YouTube videos for the past 6 years.
During this time he has transformed his physique from a skinny teen to ripped muscular bodybuilder.
Adam recently competed at the British Bodybuilding Finals placing a respectable 6th place among a very competitive line up.
Below you're going to get Adam's Top 5 Diet Foods for Feeling Full while following a fat loss cutting diet.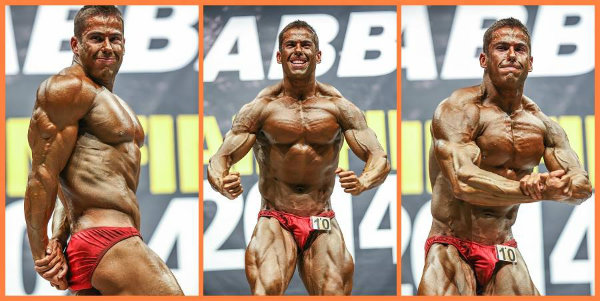 Adam Foster Competing on Stage!
---
Top 5 Diet Foods To Satisfy Your Hunger
When Following A Fat Loss Diet.
All bodybuilders share one thing in common. They need to eat a lot of food when trying to gain muscle mass, and they need to reduce the amount of food they eat when losing weight. Of course your body type and activity level play a vital role in the amounts you need to eat, but you get the idea.
Our bodies are a funny thing, and our minds are evil. When I'm trying to gain weight, and eat more food, I often feel full quick. That's when supplements come in handy such as protein shakes, or carbohydrate supplements, to help increase calorie intake.
However when I'm cutting for a bodybuilding contest, I find myself hungry all the time. When your body is used to a certain calorie intake, from your "bulking" phase, and you begin dropping your total calories (usually by dropping carbohydrates gradually), you're going to feel more hungry.
Couple this with increased energy output from doing more cardio activity, and you'll find yourself looking for foods that are high in volume and low in calories so you can eat more to satisfy your hunger, while still keeping your caloric intake low.
As I mention on my supplement website, supplements are useful, however diet is key in making progress towards your fitness goals. Supplements will not fill you as much as real food.
Here are my top 5 tips to feel fuller, while on restricted calories.

Tip #1 – Eat More Cauliflower
This thing is like a magic diet food.
In 100 grams of Cauliflower you'll get…

Energy 104 kJ (25 kcal)
Carbohydrates 5 grams
Sugars 1.9 grams
Dietary fiber 2 grams
Fat 0.3 grams
Protein 1.9 grams
Vitamins Thiamine (B1) (4%) 0.05 mg Riboflavin (B2) (5%) 0.06 mg Niacin (B3) (3%) 0.507 mg Pantothenic acid (B5) (13%) 0.667 mg Vitamin B6 (14%) 0.184 mg Folate (B9) (14%) 57 μg Vitamin C (58%) 48.2 mg Vitamin E (1%) 0.08 mg Vitamin K (15%) 15.5 μg Trace metals Calcium (2%) 22 mg Iron (3%) 0.42 mg Magnesium (4%) 15 mg Manganese (7%) 0.155 mg Phosphorus (6%) 44 mg Potassium (6%) 299 mg Sodium (2%) 30 mg Zinc (3%) 0.27 mg Other constituents Water 92 g
Quite the list eh? The beauty about cauliflower is that it can be used as a rice substitute, a mashed potato substitute, or even a pizza base. By chopping up your cauliflower, or throwing it in a food processor, then dry frying it in a pan, you can create a low calorie / low carb rice / potato substitution. It's perfect for adding volume to your meals, or to kill your hunger late in the evening.

Tip #2 – Low Calorie Dessert – Sugar Free Jelly!
I love this stuff. I don't even count the calories in this thing. Now I'm no scientist, but I'm pretty sure you'd burn more calories just eating sugar free jelly than what it actually contains.

If you're following a low carb diet, or carb cycling, then make sure to always have a sachet or 2 of this set ready in the fridge.
When you are dieting you might make it until about 8pm feeling good, and then all of a sudden your hunger creeps up on you. A bowl of sugar free jelly will kill those sugar cravings you have, as it tastes quite fruity, along with making you feel full due to how much water volume it contains.
Couple this with a protein shake and you've got yourself a low carb meal that you can eat it whenever you feel yourself getting hungry.

Tip #3 – Just Add Mushrooms
I have mushrooms all the time with eggs. Whether I'm scrambling them, or making an omelet, mushrooms are one of the foods I don't even count calories on. (FYI though – the supermarket brand of frozen mushrooms I get do contain 12 calories per 100 grams)

By adding mushrooms into your eggs, or as a side dish to any meal, it gives you a lot more food volume to eat, without racking up the calories.
If you're having steak, or any kind of grilled meat, you can't beat adding pan fried mushrooms and onions on top to let the juices of the meat come onto the mushrooms for added taste.
Lee Hayward has posted up a YouTube Video showing how to make a tasty Low Carb Bodybuilding Meal of Grilled Chicken & Portobello Mushrooms that you can check out below…

NOTE: If you can't see the embedded video clip above,
you can watch it on YouTube by Clicking Here

Tip #4 – Control your Hunger with Peanut Butter!
Ok I know that peanut butter isn't a low calorie food. In fact Peanut butter is actually very high in calories due to its (good) fat content. So you can't go crazy on this as you would cauliflower, jelly, or mushrooms… But hear me out.

An all natural peanut butter will provide you a good serving of healthy fats and protein, with minimum carbs. The consistency of the peanut butter, along with the fat and protein content makes it a very filling and satisfying food. It's perfect for those who are following a low carb, medium-high fat diet plan.
The problem with peanut butter is it tastes so damn good that it's hard to resist spooning out an entire jar. So you are going to have to exhibit some self control, and weigh yourself out one portion, then put the jar far out of sight 🙂
Natural peanut butter isn't that expensive, and when bought in bulk using an offer from my protein discount codes page, you can save a ton of money. Just be careful not to buy too much and over eat it!

Tip #5 – Fill Your Belly with Green Veggies
| | |
| --- | --- |
| When it come to green vegetables it's almost impossible to eat too much. We've all been told to eat at least 10 servings of veggies per day. And there's no better time to fill your belly with all that green goodness than when you're following a bodybuilding cutting diet! | |
My favorites are broccoli and green beans. They are full of fiber, and the much like jelly, full of water. The fiber makes you feel full, and coupled with the water, your body will think you've eaten more food than what you have. Again, there is little need to count the calories from green vegetables in my opinion. You'd have to eat mountains of veggies in order to actually consume enough calories to the point where it would be worth tracking.
There are lots of ways to get extra veggies into your daily diet… Add chopped veggies and baby spinach to a breakfast omelet, have a garden salad with lunch, cook up some steamed or stir fried veggies with dinner, and keep a fresh veggie tray in the fridge for in between meal snacking.

Conclusion…
Dieting is simple, but it's not easy. When you feel hungry, the temptation to grab a candy bar, or pour up a big bowl of cereal is strong. But these foods won't help you reach your fat loss goals. And they will encourage you to eat more and more.
However, the foods I've outlined for you in this blog post have helped me get through low carb bodybuilding contest diets, and hopefully they will help you as well.
What are some of your favorite diet foods to help you feel full? Please let me know in the comments down below!
And if you'd like more information about me or my bodybuilding career you can check it out over at http://www.shreddybrek.com
---