It's no surprise that chicken breasts are staple bodybuilding food. After all, they are a good source of high quality protein and low in fat…
And unfortunately they are also "Low In Taste" especially the way that most bodybuilders cook them.
But I've got good news because my buddy Dave Ruel has an awesome recipe for "Baked Crispy Chicken Nuggets" that is both HEALTHY and DELICIOUS!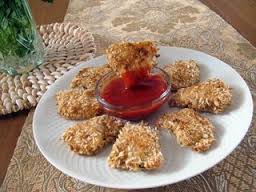 Click Here To Get More Recipes Like This…
——————————————————–
Note:
Dave is the author of the Anabolic Cooking Program at:
http://www.AnabolicCooking.net <<--Click Here This is the Bodybuilder's Cookbook with 200+ musclebuilding and fatburning recipes. Whether your goal is to gain lean muscle mass, lose stubborn bodyfat, or simply improve your overall health, this cookbook is a "Must-Have" in your kitchen!
——————————————————–
So if you are sick and tired of choking down plain boiled chicken breasts (like I am) then I recommend you give this Baked Crispy Chicken Nugget recipe a try.
Trust me you're going to love it!
Here's what you need:
– 3 boneless, skinless chicken breasts. (6 oz. / 170 g each)
– 1/4 cup / 60 ml of oat bran
– 1/4 cup / 60 ml of wheat germ
– 1 Tbsp / 15 ml coarsely ground flaxseed
– 1/4 cup / 60 ml coarsely ground almonds
– 1/2 tsp / 2 1/2 ml sea salt
– 1/2 tsp / 2 1/2 ml white pepper
– Pinch garlic powder
– 1/2 cup / 120 ml water or low-sodium chicken broth
– 1 large egg white, lightly beaten
Directions:
1. Preheat oven to 400°F or 205°C. Prepare baking sheet by lining with parchment paper or coating lightly with olive oil.
2. Cut chicken breasts into nugget-sized pieces, about 1.5 inches square (or 4 centimeters square). Set aside.
3. Next, combine all dry ingredients in a large container with a tightly fitting lid. Shake well. This is your coating mixture.
4. Combine water and egg in a medium bowl. Dip each piece in the water/egg-white mixture. Then dip each piece in the coating mixture. Make sure each piece is well coated.
5. Place on the baking sheet. When all of your chicken has been coated and your baking sheet is full, place in the oven and bake for 10-15 minutes or until golden brown.
Nutritional Facts:
(Per Serving – 4 Nuggets)
– Calories: 148
– Protein: 22g
– Carbohydrates: 6g
– Fat: 4g
Bon Appétit 😉
---
The Bodybuilder's Cookbook!

And if you want a No-Brainer Bodybuilding Nutrition Program that you can follow that not only fuels your body with the Perfect Ratios of protein, carbs, and healthy fats…

But also Tastes Delicious and is FUN and Enjoyable to eat then you need to check out:
My good friend and fellow bodybuilding competitor Dave "The Muscle Cook" Ruel is the author of the Internet's Best Selling Bodybuilding Cookbook – Anabolic Cooking!
The entire system has been recently updated & revised. And the best part is that for this week only Dave is slashing the price and you can pick up the Brand New Edition of Anabolic Cooking at a HUGE 50% Discount off the regular price!
Anabolic Cooking will turn you into the "Super Cook" that you never thought you could be…
Whether your goal is to build lean muscle mass, lose stubborn bodyfat, stay fit, perform better or simply improve your overall health, this cookbook is a "Must-Have" in your kitchen!

www.AnabolicCooking.net
<<-- Click Here & Save 50% This Week Only!
---
P.S.
This is by far the best bodybuilding cooking system that
I've seen to help you reach your muscle-building goals.
I've been using these recipes myself and I love them.
You will learn every aspect of cooking & nutrition
for building a lean muscular physique!
www.AnabolicCooking.net <<--Download Your Copy