A lot of people pride themselves on working out every single day. They will brag about how dedicated they are with sticking to a strict regimen of daily exercise.
But is working out everyday the best way to build muscle?
Should you take days off from the gym, or are rest days over rated?
That's what you're going to learn in this video / blog post…
I was recently asked "Why Do We Need Rest Days?"
from Kevin, who is a member of the Total Fitness Bodybuilding Inner Circle Coaching Club.
——————————-
Kevin Asked…
Why do we require rest periods for maximum growth. I noticed that I made better gains from only working out 4 days per week rather than every day. I enjoyed working out every day, but I did not get as good of results. My question is why do we need rest days?
——————————-

Why Do You Need Rest Days Between Workouts?
NOTE: If you can't see the embedded video clip above,
you can watch it on YouTube by Clicking Here
The reason we need rest days becomes clear when you zoom out and look at the big picture of how muscle growth actually occurs, because muscle doesn't grow when you are working out. That's right… Going to the gym DOES NOT build muscle!
"What the heck are you talking about Lee?"
Now before you think I've lost my marbles… Hear me out for a minute…
The workout itself simply stimulates muscle growth, when you do hard weight training you are breaking down muscle tissue. It's only when you give your body time to rest and recover in between workouts when actual muscle growth takes place.
If you try and workout everyday, like a lot of people do, then you will actually break down your body faster than it can recover. While you maybe able to get away with doing daily workouts for the short term, it's eventually going to catch up with you and your workouts in the gym are going to suffer. This is what's known as "Over Training". Basically you are breaking your body down faster then it can build back up.
A good structured workout program will have rest days planned out in advance. Taking rest days will allow for better recovery of your muscles and central nervous system. This will give your body time to fully rest, recover, and grow between workouts. Then on the days when you do workout; you'll feel stronger, have more energy, and be able to train harder in the gym.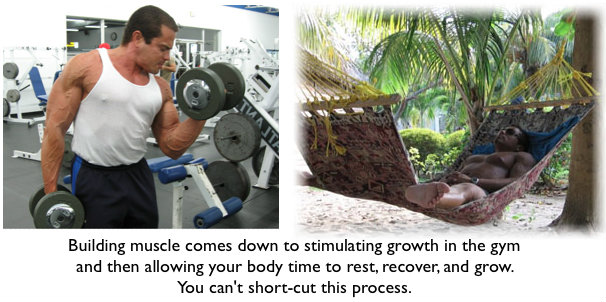 Building muscle comes down to stimulating growth in the gym and then allowing your body time to rest, recover, and grow. You can't short-cut this process.
As for how many rest days you should take. It really depends on your fitness level, experience, what type of program you're following, etc. But a good general rule of thumb that works well for most people is to workout every other day.
Having a full 48 hours of rest in between workouts to rest will allow you to hit the gym feeling strong and fresh. When I look back over my training journals I've generally made my best size and strength gains when following an every second day workout schedule.
Now some people may like to stretch this out and workout 2 days on and 1 day off and they find that this works well for them. Bottom line there are a lot of variables involved so there isn't a one size fits all answer. But I think every single strength and conditioning coach will agree that taking rest days off from the gym is an important part of any workout program.
So if you are one of those guys who likes to workout everyday and your progress is stuck in a plateau, try cutting back on your workout frequency and taking more rest days. The extra recovery time maybe just the thing you need to start growing again.

---

About the Author:
Lee Hayward started working out in 1990 and began competing in bodybuilding competitions in 1995. Then in 1999 he started www.LeeHayward.com the very website you are reading right now. Over the years Lee has committed himself to helping aspiring bodybuilding and fitness enthusiasts improve themselves by gaining muscle, burning body fat, and developing a strong healthy body.

If you would like Lee to help you get in your personal best shape with personalized diet and training advice. Then you should consider becoming a member of the Total Fitness Bodybuilding "Inner Circle" Coaching Club.
As an "Inner Circle" member you'll get direct access to Lee Hayward through Live Video Chats, along with the Workout Of The Month Program, Muscle Building & Fat Loss Diet Plans, and the Private Members Only Discussion Forum, where you can chat with other like minded members who are serious about getting in their best shape and who share the same goals as you.
Click Here to get more info about becoming a member of the Total Fitness Bodybuilding "Inner Circle" Coaching Club!