Do you have the "No Pain, No Gain" mindset when it comes to working out?
Are you constantly pushing your limits and repping out to failure in the gym?
In order to stimulate muscle growth you need to push your limits and train hard with progressive overload. But that doesn't necessarily mean that you have to push it to failure on every single exercise that you do.
In this video you're going to find out when it's ok to train to failure and when you should back off…

Click Play To Watch The Video.
NOTE: if you can't watch the embedded video here on this page, you can watch it on my YouTube channel at: https://www.youtube.com/watch?v=5Px5snpgoQ4

Now don't get me wrong, you do need to push your limits in order to build muscle. However, you can train too hard and actually hinder your muscle gains!
Pushing yourself to muscular failure greatly increases your risk of getting injured. This is especially true when doing big heavy compound lifts like squats, bench presses, deadlifts, rows, overhead presses, etc.
If you get injured (i.e. pull or tear a muscle, tendon, or ligament) this could prevent you from working out for weeks – or even months – while you are recovering from the injury. If that happens you're going to back track and lose all the gains that you've been busting your ass to make in the first place.
There's a fine line between pushing your limits and going over the limit. You need to train smart and know when enough is enough. This will allow you to reduce your risk of injury and remain consistent in the gym over the long term.
The truth of the matter is that you can still make good gains by stopping your sets 1-2 reps short of failure.
It's perfectly fine to complete your last rep and still have energy enough left in reserve to rack the weight on your own. You don't have to hit failure and be pinned helpless under a loaded barbell waiting for your spotter to rescue you in order to have an effective muscle building workout.
Stopping your sets short of failure will not hinder your gains, but if you push too hard and get hurt, that will definitely slow your gains.
Remember the key to bodybuilding is longevity in the sport, you need to pace yourself and stay in the in game over the long term if you want to succeed and build a muscular physique. Being laid up with injuries is not going to move you forward, but will hold you back from reaching your goals.

Would You Like Some Help With Building A Lean Muscular Physique?
If you would like some help with building a lean muscular bodybuilding physique, than I recommend that you download a copy of my Free e-Book: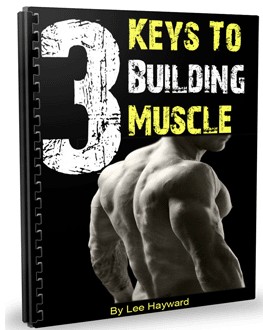 The 3 Keys To Building Muscle – PDF
In this 51 page PDF download you'll get insider tips & tricks about Bodybuilding Training, Nutrition, and Mindset that top level Bodybuilders & Physique Competitors use to quickly fill out their frames with Rock Solid Muscle Mass!
Click Here to Download Your Copy for Free!