Upright Rows are a great exercise to work the traps, side, and rear deltoids. But the way most people do them can cause a lot of discomfort.
In this blog post you're going to learn a safe variation that will allow you to perform the upright row pain free and allow you to maximize muscle activation from this exercise.
When doing the barbell upright row variation a lot of strain gets placed on the wrist joints because your hands are locked into a fixed position. And the higher your row the more it twists and kinks your wrists.
This makes the exercise painful to do and it also limits the muscle stimulation you are able to place on your shoulders. But there is a very simple variation that you can do that will totally eliminate this problem and allow you to perform upright rows pain free, just the video demo below…
Click PLAY To Watch The Video:
Note: if you are on an iPad and can't watch the embedded video clip above,
you can watch it right on my YouTube Channel by Clicking Here
To overcome this problem, all you have to do is preform your upright rows from a low pulley cable and instead of using a straight bar attachment, use 2 single handle attachments (you could also use a rope attachment as well).
Having 2 separate handles will allow your hands and wrists to rotate in a natural movement as you row up making the exercise much more comfortable to perform. Not only that, but it allows you to get a better peak contraction throughout your upper back because you can row higher and squeeze your muscles hard through a full range of motion.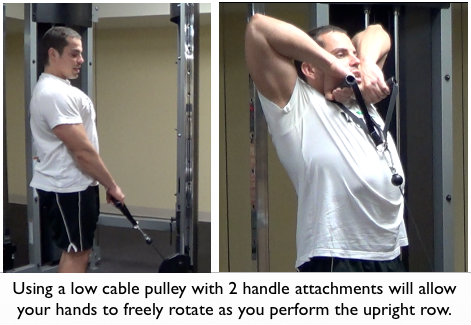 Give this low pulley cable upright row variation a try for yourself and than leave me a comment below to let me know if you find it better than the barbell variation.
all the best,
Lee Hayward
(Your Muscle Building Coach!)