What's the difference between protein powders and weight gainers?
Which one should YOU use to help achieve your muscle building goals?
I get a lot of questions like this from my online followers…
They just want to cut through all the confusion and figure out which one they should use, what's the best value for their money, and how they can maximize their muscle gains…
This is a common question I hear:
"Lee, I'm 24 years old, 5'10 tall, and weigh 173 pounds. My goal is to bulk up and gain as much muscle as I can. But I don't want to get gain any fat either. Should I use a Protein Powder or a Weight Gainer to help me gain lean muscle?"
Then they usually list out a bunch of different brands of protein powders and weight gainers, and ask me to rank them as to which one is the best…
But before we can answer this question we need to step back and just look at protein powders and weight gainers for what they really are… A source of quick convenient liquid nutrition. That's it!
Most advanced bodybuilders, myself included, don't even consider protein powders or weight gainers to be "supplements" at all, but rather just a convenient food source. For example, do you consider drinking a glass of milk taking supplements? Probably not… Well, drinking a protein or weight gainer shake is pretty much the same thing, except it's a more concentrated source of liquid nutrition.
So don't be fooled by all the hyped up magazine ads that feature jacked up bodybuilders saying that the key to their success is drinking "Super Duper Muscle Builder 4000".
You need to read between the lines when it comes to any advertising.
For example; just because Mr. Olympia drinks protein shakes, that doesn't automatically mean that the protein shakes are what caused him to win the Mr. Olympia.
To break this down further and show you how supplement ads will sometimes play off this, just look at the following example…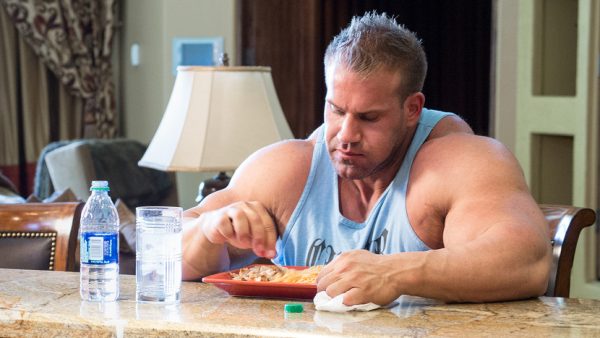 Jay Cutler drinks bottled water.
AND…
Jay Cutler won the Mr. Olympia.
So There For…
Bottled Water is the key to winning the Mr. Olympia.

Now we all know that drinking water is important, not only for building muscle, but for life in general. However, this doesn't mean that drinking bottled water is some "magic secret" that will cause you to build the ultimate body of your dreams.
The same thing applies with protein powders and weight gainers. Yes protein is an essential nutrient, one that we all need in order to live. But protein powder doesn't have any special muscle building properties over normal high protein foods. Regardless of what the advertisements say, or who the paid spokesperson is, these products are nothing more then a convenient meal replacement alternative.
So now that we've gotten the marketing hype out of the way, let's get into the meat of the article and answer the question…

Protein Powder OR Weight Gainer – Which One Is The Best?
There are 3 main categories of protein supplements:
1) – Protein Powders
These powders are almost all isolated or concentrated protein, with only trace amounts of carbohydrate and fat. A typical scoop of protein powder will have 20+ grams of protein and only a couple grams of carbs and / or fat.
2) – Weight Gainer Powders
These powders are usually a combination of both carbohydrates and protein. Generally they will have a 2 to 1 ratio of carbohydrates to protein. A typical serving of weight gainer powder (which is usually a couple large scoops of powder) will have 60+ grams of carbohydrates and 30+ grams of protein. Along with a few grams of fat.
3) – Meal Replacement Powders
These powders are also a combination of protein and carbohydrates. But they generally have a 2 to 1 ratio of protein to carbohydrates. A typical serving of a meal replacement (which usually comes in a pre-packaged individual serving pouch) will have 40+ grams of protein and approx. 20+ grams of carbs.
=======================================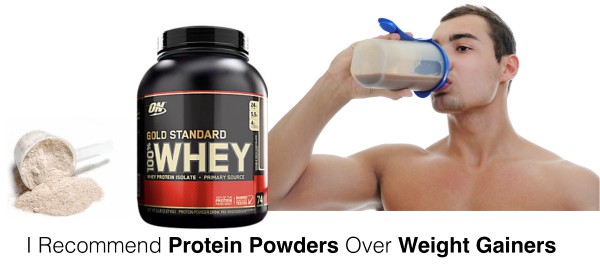 The best bang for your buck and the one I recommend for most guys is a…
Pure Protein Powder Supplement!.
This is a staple that should be on everyone's grocery list. I recommend either a whey protein isolate, concentrate, or a whey protein blend. In the video clip below I explain the differences between the different types of protein powder…

Click PLAY To Watch Video:
Note: if you can't watch the embedded video clip above,
you can watch it directly on my YouTube Channel at:
https://www.youtube.com/watch?v=ga94bWEI0Nk
To build a bigger more muscular physique you'll need to consume more protein than the average person. NOT more carbohydrates – so that's why I personally use and recommend protein powder as the top choice.
I actually discourage most guys from using Weight Gainer Powders because more often then not, the weight you'll gain from these drinks is just excess bodyfat. The carbs that are in most weight gainers are simple sugars that will cause an insulin spike and thus promote fat storage. The only time when spiking your insulin levels is a good thing, is right after you finish a hard weight training workout. So if you want, you could use a weight gainer shake as your post workout shake.
However, you can very easily make your own post workout Protein & Carb shake with pure protein powder and simply add in the carbs yourself. This is usually cheaper then buying a weight gainer powder.
You can buy Maltodextrin (a carbohydrate powder) in bulk at stores that sell Home Brew Beer & Wine Kits. You can also buy Dextrose (a simple sugar) at these home brew kit stores as well, and simply add them to your post workout protein shake if you to have simple carbs post workout.
Just mix your post workout shake so that it has about 80 grams of carbohydrate powder (a 50/50 mix of maltodextrin & dextrose would be ideal) and 40 grams of pure protein powder. This will give you the ideal 2 to 1 ratio of carbs to protein.
What's your personal favorite protein powder supplement?
Let me know in the comments below…
---
Got a minute? Please take my little fitness survey…