You Are What You Eat…
And protein is the most important key nutrient that is required for success in athletic sports. It is the primary nutrient that's needed by the body for recovery and muscle growth. Besides water, protein is the most abundant molecule in the body.
Protein is the major structural component found in all of the cells in the body, especially the muscle cells.
When protein is broken down into amino acids it is then utilized as precursors to hormones, co-enzymes, and nucleic acids that are responsible for immune response and cellular repair that is essential for life.
In bodybuilding, adequate protein consumption plays a major role. The amino acids, which are the building blocks of protein, are used for building new muscle tissue as well as repairing damaged muscle tissue that's caused from intense training.

How Much Protein Should I Consume Per Day?
The old mantra for bodybuilding is to consume 1 gram of protein per pound of bodyweight per day. Now while this is certainly a good place to start for beginners. Most advanced bodybuilders will need to increase that to 1.5 and even as much as 2 grams per pound of bodyweight per day.
If you've been consuming an average of 1 gram of protein per pound of bodyweight per day and you feel that you are stuck in a rut your muscle gains at a stand still plateau. Then try increasing your protein intake to upwards of 2 grams per bodyweight per day for the next 6 weeks and monitor your results. This maybe just the thing you need to do to get your body growing again.
But there is more involved with proper protein consumption then simply getting enough based on your bodyweight. You need to consume protein throughout the day so that you provide your body with a steady supply of amino acids in your bloodstream at all times.

Fast, Medium, and Slow Digesting Protein…
In addition to that you need to consume different sources of protein. There are fast, medium, and slow digesting proteins.

Typically Whey Protein Supplements are the fastest digesting form of protein. This will get quickly absorbed and utilized by your body.
---
| | |
| --- | --- |
| Then lean protein foods such as white fish, chicken breast, turkey breast, egg whites, etc. these are medium digesting protein foods. They won't be digested as fast as whey protein supplements, but they'll be digested faster then protein foods that contain higher fat content. | |
---
Foods such as red meat, dark meat poultry, whole eggs, fatty fish such as salmon, etc. these are slower digesting proteins because the higher fat content of the food slows digestion.

Other sources of slow digesting protein include; casein protein supplements, and dairy products such as cottage cheese which has high amounts of casein. Casein actually clumps in your stomach and provides a slower more continuous release of protein over a longer period of time.

Planing Your Daily Protein Intake…
For breakfast you should consume a combination of fast and slow digesting protein. I recommend starting your day with a protein shake. This is the fastest and easiest way to get a high does of quality protein in your system and help "Break – The – Fast" from sleeping all night. Then you can have some slower digesting proteins such as eggs or cottage cheese along with your shake to provide some slower digesting proteins as well.
Throughout the day you can consume a combination of medium and slower digesting protein foods. Things like chicken, meat, fish, etc. This will help provide a steady release of protein to your bloodstream.
Pre and Post workout you should focus on faster digesting proteins to provide a quick source of amino acids to your working muscles.
A meal containing chicken or white fish about an hour before you hit the gym will be ideal.
During your workouts you can even consume Branched Chain Amino Acids (BCAA's). This is the absolute fastest absorbable form of protein because it's already broken down into it's most basic useable form. When you consume BCAA's they literally go very quickly to your working muscles because there is hardly any digestion process involved.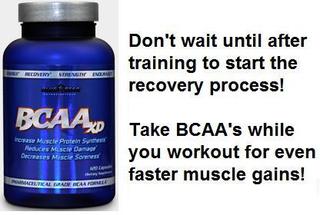 Post workout you should consume a fast digesting source of protein such as a whey protein shake. You can consume this along with some fast digesting carbohydrates such as dextrose or a sports drink like Gatorade. This way you'll not only quickly replenish your protein, but you'll also replenish your glycogen stores as well.
About an hour after your post workout shake you can consume another meal with primarily faster digesting foods like chicken breast, egg whites, or white fish.
And then for your meals there afterwards you should focus on slower digesting proteins like red meat, whole eggs, cottage cheese, etc.

Extra Protein Tips…
You can change the digestion rate of protein by combining that protein with fat and fiber. For example, if you are looking for a quick protein meal on the run, you can have a protein shake along with a handful of almonds or walnuts. This would provide some healthy fats and fiber which would in turn help slow down the digestion rate of the protein.
I actually posted up a video on YouTube showing how to use this tip for a quick and simple breakfast idea, you can check it out below:



If you can't watch the embedded video clip above,
you can watch it directly on YouTube by Clicking Here.

Another tip you can use for fast protein meals on the run is using a protein powder blend. One of my personal favorites is Iso-Smooth from Blue Star.
This particular protein powder contains a high quality blend of whey, egg, milk, and casein proteins. This provides fast, medium, and slow digesting proteins for a steady release of protein to the bloodstream. So if you don't have time to sit down to the table for a formal meal, you can just mix up some Iso-Smooth in a shaker bottle and you're good to go.

Conclusion…
If you are really serious about taking your fitness and muscular development to the next level, I highly recommend that you incorporate these protein meal tips into your own eating plan. Within about 6 weeks of following these suggestions on a regular basis you should be feeling stronger in the gym, and you should also be looking bigger and fuller as well.
And if you would like for me to help you personally with your muscle building training and nutrition program. You should join up as a member to the Total Fitness Bodybuilding "Inner Circle" Coaching Club!
Regardless if you are a skinny bag of bones who needs to beef up and pack on some muscular mass. Or if you're more like the Pillsbury Doughboy who needs to sculpt that muffin top into a set of rock solid abs.
I can help set you up on a personalized bodybuilding program that's right for you, your body type, your fitness experience, and your budget…
All you have to do is sign up to the Total Fitness Bodybuilding "Inner Circle" Coaching Club at: www.TotalFitnessBodybuilding.com