One area that causes a lot of confusion for people with regards to proper bodybuilding nutrition is:
"What Should You Eat Right Before A Workout?"

and
"What Should You Eat Right After A Workout?"

Right around your workout is a critical time frame where your body NEEDS high quality, fast digesting nutrients to help replenish your muscles to aid with recovery and growth.
Taking advantage of this unique window of opportunity and getting it right can really help you get the most out of your workouts. Pre and post workout nutrition is very often the missing link for maximizing your strength and muscle gains in the gym.
So in this video clip below I'm going to show you exactly what you should have before, during, and after your workouts to ensure that you provide your muscles with the nutrients they need.
Watch The Video to find out what you should eat before & after working out…
Note: if you can't watch the embedded video clip above,
you can watch it right on my YouTube Channel by Clicking Here
Overview of what a good pre and post workout nutrition plan should look like:
1 hour before going to the gym have a small protein and carbohydrate meal.

10 minutes before your workout have a pre-workout energy drink such as Extreme Rush to prepare you for the workout.

20 minutes into your workout have a serving of BCAA's to help keep your body in an anabolic state.

Right after your workout have a post workout protein shake with 5 grams of creatine. If you are bulking up in a mass building phase you should add 50-100 grams of fast digesting carbohydrates to this post workout shake, something such as dextrose, fruit, waxy maise, or other fast digesting low fat carbohydrate source to help replenish your glycogen stores and increase your caloric intake.

About 1 hour after your workout have a solid food protein and carbohydrate meal.

Save 50% Off During The Boxing Week Sale!
You can order all of these supplements online at: www.BlueStarMuscle.com and SAVE 50% Off Your Order* during the Boxing Week Sale until Sunday December 29th.
Just enter coupon code: BOXING50 when you check out.
*The 50% off coupon applies to all Blue Star products with the exception of Iso-Smooth.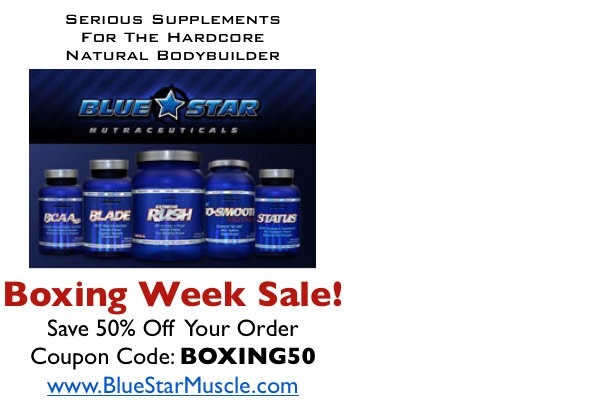 ---
Pre & Post Workout Nutrition Re-Cap…
Well there you have it, a complete pre and post workout nutrition plan laid out for you step by step.
Now you are probably thinking right now:
"That's A LOT of stuff… It must cost a fortune to take all that…"
And I agree that eating for bodybuilding isn't cheap. After all it's a lot more expensive to buy chicken breasts than it is to buy Kraft Dinner. But if you are really serious about maximizing your gains in the gym then you need to focus on consuming high quality nutrient dense foods, rather than cheap processed filler foods and junk foods.
Now as for the supplements that are covered in this video, they are actually more affordable than you would think. On a per serving basis supplements are a lot cheaper than most other food products.

—————————————
Note:
You can order all of these supplements online at: www.BlueStarMuscle.com and SAVE 50% Off Every Order for this weekend only. Just enter coupon code: BOXING50 when you check out.
—————————————

For example, Creatine costs about 15 cents 8 cents per serving, Extreme Rush is about a 1 dollar 50 cents per serving. BCAA's are about 40 cents 20 cents a serving. The most expensive of it all is the protein powder which is about $2 per serving (but that's still a lot cheaper than buying a steak). If you took all of these supplements just like I outlined here it would cost a couple bucks per workout.
Considering all the health and muscle building benefits that these supplements provide, this is actually a very good deal in my opinion.
I'd love to hear your feedback…
Please post a comment below letting me know what your pre and post workout supplement routine is and we can chat about it in the comments section below…