When I'm preparing for a bodybuilding competition I like to compare myself to the toughest and fiercest competitor that I'm going to have to face and see how well I stack up to him.
Now my toughest competition is a seasoned bodybuilding competitor who knows how to get in top shape. He's going to be a hard guy to beat, but I'm totally committed to showing him who's boss and kicking his ass when I step on stage for the 2010 Atlantic Canadian Bodybuilding Championships on April 17th.
I have competed against this particular guy several times in the past, and almost every time we went head to head I've beaten him. And I'm confident that I will beat him again this time around as well.
In fact here is a video clip of the guy I have to beat…
Who is this "fierce" competitor you may ask…?
Well, it's ME… Every time I compete my goal is to get in better shape than I was for my previous competition. As long as I do that than I've done my job, regardless of what else happens.
You see in a bodybuilding competition (or any competition for that matter) you have no control over how good of shape someone else is going to be in, or what the outcome of the show will be. The only thing you can do is focus on getting in your personal best shape ever. That's it!
So as I'm preparing for a contest I'll take progress pictures, keep records of my bodyfat percentage, bodyweight, etc. and constantly try to beat my personal best shape from the last time I competed.
This little tip right here can make or break your bodybuilding success over the long term.
If you are not keeping track of your progress by taking pictures, recording your bodyfat, bodyweight, and measurements then how do you ever expect to improve?
Start keeping track of your results right now. I'd suggest checking your bodyweight every week, checking your bodyfat percentage and measurements every two weeks, and taking progress pictures every 3 weeks.
By making small measurable progress in each of these areas you will move closer towards your ultimate goal of building a lean muscular physique!
"Inch By Inch, Life's A Synch… Yard By Yard, Life's Hard"
Note: if you would like to take your physique to the next level and compete in a bodybuilding competition. You should read my book "Your First Bodybuilding Competition"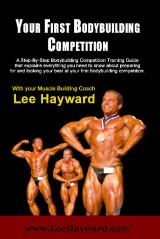 http://www.LeeHayward.com/bodybuilding