If you suck at doing Pull Ups & Chins Ups and can't even perform a single rep, then you should give these assisted pull up variations a try…
Pull Ups are one of the best exercises you can do for building up your upper body. They work multiple muscles in your back, arms, chest, core, etc. and they develop real world functional strength.
The only problem is that pull ups & chins ups are hard as heck!
They are very advanced exercises and it can be hard and frustrating for beginners to perform even a single rep, let alone master them and perform multiple sets and reps.
However, there are some simple assisted pull up variations that you can perform in your workouts to help build up your strength and work capacity. Doing these assisted pull up variations will help you to eventually work your way up to doing proper pull ups and chin ups with your entire bodyweight.
Watch The Video Below To Learn How You Can Perform Pull Ups…
Note: if you can watch the embedded video above, Click Here to watch the video on my YouTube channel.
---
Progressive Pull Up Program…
If you would like more tips and tricks for mastering Pull Ups & Chin Ups, then I highly recommend that you download a copy of the "Progressive Pull Up Program". This will take you through a complete step-by-step graduated pull up training system.
It doesn't matter if you are brand new to working out and have never even attempted a pull up before, or if you've been busting your butt in the gym for months on end and just can't get your chin over the bar, the Progressive Pull Up Program will strategically take you through the entire process of conquering one of the hardest exercises in the gym… The Pull Up!
All phases of training are covered in detail – from the out of shape beginner who can't even do a single pull up with bodyweight, right on up to the advanced bodybuilder who can bang out multiple sets of weighted pull ups!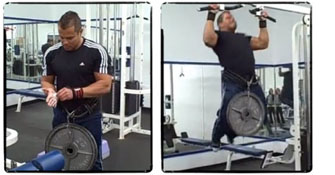 Click Here to download your copy of the Progressive Pull Up Program.