When it comes to building bicep peak 2 of the best exercises you can use are the Hammer Curl and the Preacher Curl.
Hammer Curls help work the brachialis, which is that "bump" of a muscle that's between the biceps and triceps. The brachialis muscle looks awesome when developed because it adds more lines to the arms and just makes them look even more impressive and full when flexed.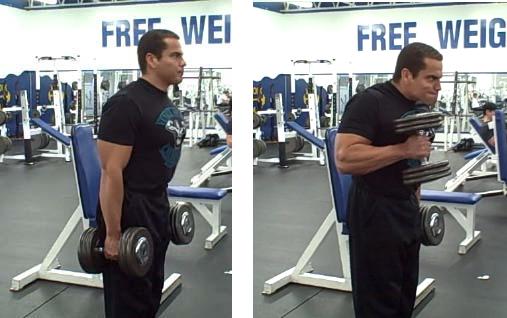 Preacher Curls help to fully stretch out the biceps and isolate the muscle. Simply by bracing your arms against the preacher bench when curling will eliminate body momentum and force all the workload on the bicep muscles.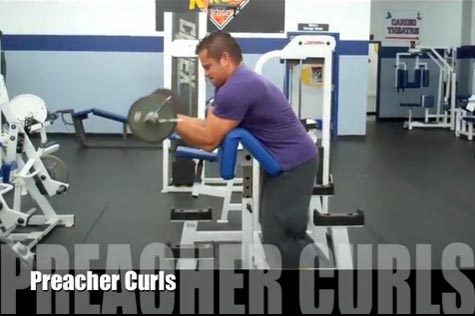 And you can literally combine both of these moves into one Killer Bicep Blasting Exercise by doing:
Dumbbell Hammer Curls On The Preacher Bench!
This is an awesome isolation exercise that you can do either as a pre-exhaust move at the beginning of a bicep workout, or as a finishing move at the end of your workout.
I've posted up a quick video clip below demonstrating this exercise in detail…
Just Click PLAY To Watch The Video:
Note:

if for some reason you can't watch the embedded video clip above.
You can watch the video on my Total Fitness Bodybuilding YouTube Channel at:
http://www.youtube.com/watch?v=SkoregZVmv4
Give this exercise a try in your next arm workout and then leave me a comment below letting me know how it works for you!
---
P.S.

If you'd like to get a complete Mass Building Workout Program to follow, be sure to download a copy of my "Blast Your Biceps" program at: http://www.BlastYourBiceps.com

This is a 3 Phase Mass Building System that will help you pack on as much as 2 inches of solid muscle mass to your upper arms in as little as 8 weeks. While also getting Bigger and Stronger in all your major muscle groups as well.

To learn more about how you can quickly increase the size of your arms and gain lean muscle mass all over, just Click Here for more info…



www.BlastYourBiceps.com