If you are like most people I know, than you probably have 2 fitness goals – to GAIN MUSCLE and to LOSE BODYFAT.
Unfortunately, for most people, the two goals are at opposite ends of the spectrum.
Building muscle mass is going to require you to take in a surplus of calories because you can't build muscle out of nothing (unless you have some chemical help going on).
AND
Losing that excess bodyfat is going to require you to be in a negative calorie balance because that is what will get your body to burn bodyfat for fuel.
Striving to accomplish both goals at the same time is rarely a good approach because more often than not, you'll end up spinning your wheels and going nowhere.
But There Is ONE Way You Can Gain Muscle While Staying Lean!
It involves a strategic "calorie cycling" diet plan. And that's what you're going to learn about in the
"Anabolic Amplifier Effect" eReport at: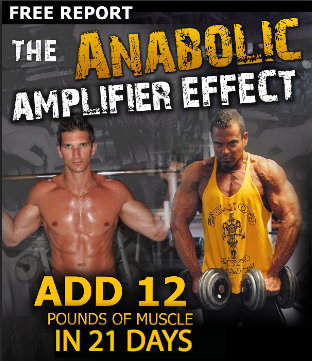 Click Here To Download Your Copy
This is a totally free download, no catch, no e-mail optin,
just click on the link and download your copy right now
to find out how to properly eat for packing on pure muscle
without getting fat.
Click Here To Download The Anabolic Amplifier Effect!
Enjoy!
all the best,
Lee Hayward
(Your Muscle Building Coach)

————————–

P.S.
From September 11-13, my co-author Vince Del Monte and I will be
running a special 'Back To School' Super Sale on our cyclical bulking
program, 21 Day Fast Mass Building so if you don't own it,
next week is when you'll want to grab it and save $50 and
get a bunch of extra bonuses.