One of the root causes of elbow tendonitis (i.e. tennis elbow or golfers elbow) is having a muscle imbalance in your forearms. Very often the muscles that grip and close the hand (forearm flexors) are over worked compared to the muscles that open the hand (forearm extensors) and this causes the tendons to pull unevenly creating pain and discomfort in the tendons.
So what I'm going to show here in this video is a simple exercise that you can do at home that will help balance out your forearm development, strengthen the muscles, tendons, and ligaments of your forearms.
This will literally only take you 3 minutes per day, but it will work wonders if you are currently suffering from any form of elbow tendonitis injury.
And if you'd like to maximize the development of your forearms, I'd highly recommend that you include Heavy Grips Hand Grippers as part of your exercise routine.
By regularly doing gripping exercises to work the forearm flexors, as well as opening exercises to work the forearm extensors, you will strengthen your entire hands and build strong muscular forearms.
You can order your very own set of Heavy Grips Hand Grippers at:
http://www.LeeHayward.com/heavygrips.htm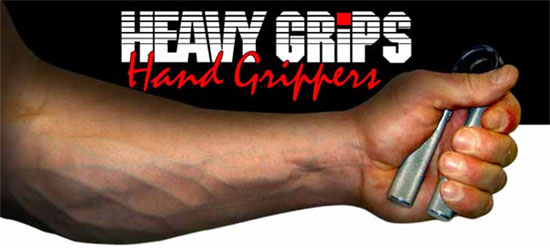 Click Here To Get Your Very Own Set Of Heavy Grips Hand Grippers