On average, people gain 5 pounds of blubber during the Christmas holiday period. But it doesn't have to be this way. When you step back and take a look at the Big Picture it's actually easy to see how you can maintain, or even lose bodyfat during this time of year if you plan things correctly.
While I'm writing this I'm actually "dieting" for a bodybuilding competition. But at the same time I fully intend to enjoy myself on Christmas day and eat all the delicious goodies my belly can hold!
| | |
| --- | --- |
| | You see it's NOT the Christmas meal that's the problem. It's all the days leading up to and following Christmas when people gain the majority of their Santa bellies. One day of pigging out is NOT a big deal. It's all the snacking on holiday treats and sweets day after day that will cause the excess fat gain that 99% of people will be experiencing in the very near future. |
But it doesn't have to be this way if you don't want to. So what I have for you is a "Christmas Holiday Eating Survival Guide" that will allow you to celebrate with your family and friends without becoming a fat slob in the process.
Your Christmas Holiday Diet Plan…
When you are going about your regular day to day life you are in control of what you eat (even at Christmas time). So rather then giving into the "Oh what the heck, it's Christmas mentality" and eating like a pig. Simply keep your diet clean most of the time. You can even tighten down your eating on your normal days so that you are in a caloric deficit. This will help to compensate for the days when you are with family and friends and plan to over indulge.
To avoid packing on the pounds over the holidays I'd suggest following a low carb eating plan on your "normal" days. This way you'll deplete your carbohydrate stores within your muscles. Then when you do pig out a lot of the extra carbs will get shuttled towards muscle glycogen, rather then becoming a flabby jellyroll around the middle.
Here's a sample low carb eating plan that you can follow:
Breakfast:
Spinach Cheese Omelet.
– 1 cup of egg whites
– 2 whole eggs
– big handful of baby spinach
– 2 slices of fat free cheese
Cook the eggs / egg whites in a non-stick pan. Turn down on low heat, add the spinach and cheese slices on top, cover until the cheese is melted.

Snack:
2 scoops of whey protein mixed with water
Lunch:
Chicken Salad.
– chop up a broiled chicken breast into a large garden salad and top with low calorie dressing
Snack:
2 scoops of whey protein with water
Dinner:
Stir fried extra lean ground beef and vegetables. Be generous with the veggies (i.e. mushrooms, onions, peppers, bean sprouts, shredded cabbage, celery, etc.).
Season with soy sauce and dry spices to taste.
Snack:
1 cup of cottage cheese
So that's a solid baseline eating plan that's high in quality protein and green veggies that you can follow during your normal days. But what about those days when you plan on visiting family and friends for some tasty (but fattening) Christmas goodies? Well, you can still follow this basic template for your non-holiday meals.
So for example, if you are going out for Christmas dinner you would still eat your breakfast, snack, and lunch as outlined above. But then you'd enjoy yourself for Christmas dinner, etc.
If you were going to go out for brunch with family over the holidays then you would have your tasty brunch in the morning and follow the low carb eating plan as outlined for the rest of the day.
Bottom line, don't go on a prolonged pig out just because it's Christmas. Enjoy yourself guilt free while you are out with family and friends, but get back on track to your regular clean eating right afterwards and you'll survive this holiday season without gaining any excess bodyfat, and who knows, you may even come out leaner then you were before. That would be a cool Christmas gift wouldn't it?
Following these tips here will help prevent getting fatter over the holidays.  But if you'd like to get on the fast track to building your best body ever in 2010, then kick off the New Year with a custom made training program and meal plan, one that's tailor made to your exact nutritional needs and body type.
I will tailor fit your custom program to help you achieve your personal muscle building and fitness goals, whether it be helping you lose bodyfat, build lean muscle, or a combination of the two.
Click Here to start your very own "Before" and "After" physique transformation!
---
What's One Thing All These People Have In Common?
They all followed a customized diet and training program from Lee Hayward!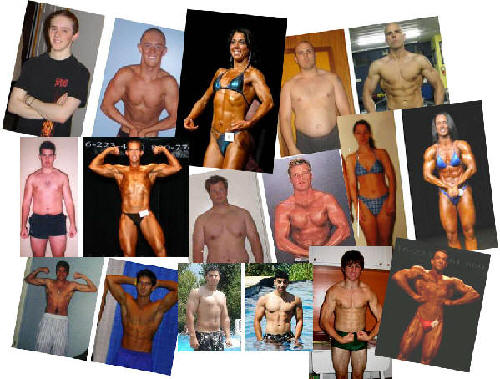 Start Your Physique Transformation Today!
Click Here For More Info About Lee's Coaching Programs…