If you are going on a camping trip and do not want to take time off from lifting. Than this is an ideal workout program to help you maintain your fitness level while enjoying the great outdoors.
I was recently on a 2 week long RV road trip / camping trip with my family. We went to some pretty remote places in Newfoundland and Labrador where there was no gym access.
However, we were still able to maintain a good fitness routine thanks to a bit of creativity and using Body Lastic Bands.
Below is a typical circuit workout routine that I would do each morning…
– Push Ups
– V-Ups
– Rubber Band Rows
– Bicep Curls
– Side Lateral Raises
– Tricep Extensions
*All exercises were done for 4 sets of 25 reps
For the lower body exercise we went mountain bike riding pretty much everyday during our camping trip.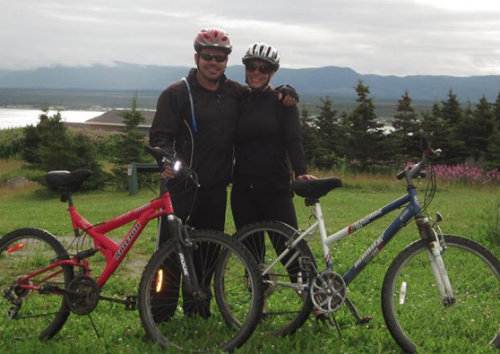 *Lee & Trish Mountain Biking on the Northern Peninsula of Newfoundland.
Now this wouldn't be considered a "muscle building" or "strength building" routine, but it will help maintain your muscle mass while improving fitness level and muscular endurance. Then when you get back home you can pick right up where you left off at the gym.
Click PLAY To Watch The Camping Trip Workout Video:
Note: if you are on an iPad and can't watch the embedded video clip above,
you can watch it right on my YouTube Channel by Clicking Here
---
If you would like to get your very own set of Body Lastic Bands, just visit:
http://www.BodyLasticBands.com
They have Basic Resistance Band Packages starting at just $29 bucks, so they are a great workout option for everyone, even if you are on a tight budget.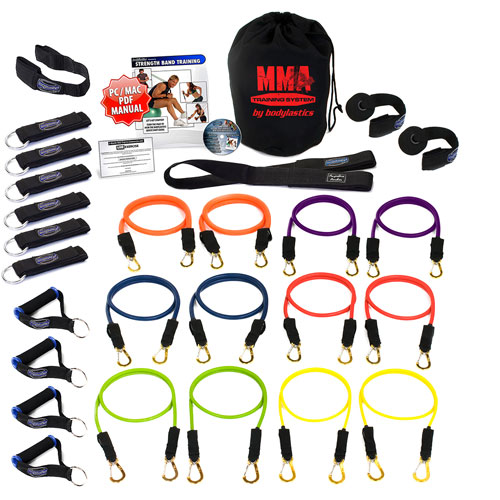 These adjustable resistance fitness bands allow you to perform over 100 gym quality exercises at home and adjust the resistance according to your individual strength and the exercises you are performing. The heavy duty home gym kits go up to over 400 pounds in tension. The Body Lastic Bands are strong enough for ANYONE to get a good workout at home!
Just Click Here for more info…