If you want to beef up your arms, than you'll want to check out the training tips that I have for you in this blog post…
One of the keys to building up a stubborn muscle group is to incorporate more frequent workouts for that muscle group in your routine. And the arms work great for doing frequent workouts for 2 reasons:
First, it is easy to train the arms with very little equipment. In this workout here all you need is a set of dumbbells or a set of rubber fitness bands.
Second, the biceps and triceps are relatively small muscle groups so by adding extra arm workouts you won't stress and burn out your central nervous system like you would by doing frequent training for larger and more demanding muscles like the legs.
Click PLAY To Watch The Video:
Note: if you are on an iPad and can't watch the embedded video clip above,
you can watch it right on my YouTube Channel by Clicking Here
The idea behind doing short frequent workouts is that it will pump up your arms and increase their potential for growth. So rather than just doing a "BIG Workout" once a week like most bodybuilding programs recommend. You are going to add in this short mini arm workout every single day to pump up your arms.
Over time this consistent frequent training will regularly pump blood and nutrients into your arms and this will help to increase their potential for muscle growth.
All you have to do is a circuit of single arm curls and single arm extensions like this:

– Do a set of bicep curls for your right arm.
– Do a set of bicep curls for your left arm.
– Do a set of tricep extensions for your right arm.
– Do a set of tricep extensions for your left arm.
– Repeat this circuit 3 times and perform 10 reps for each set.
You can alternate which arm you start with for each workout. And if you prefer you can start with triceps instead of biceps. The bottom line is that you just do a few sets of curls and extensions everyday to pump up your arms.

Single Arm Bicep Curls: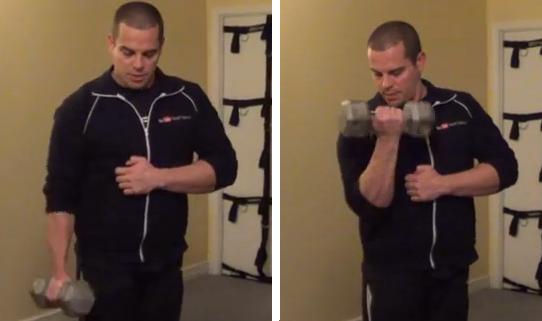 Single Arm Tricep Extensions: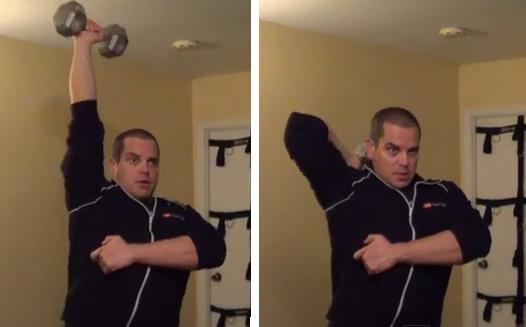 You can also do these exercises with Body Lastic Rubber Fitness Bands in place of dumbbells.

If your arms are a stubborn muscle group, give this mini bicep & tricep workout a try, just do them at home in your spare time and within the next 6 weeks you'll see some noticeable improvements in your arm development.
And if you have any questions, comments, or feedback – please feel free to post them below and I'll chat with you in the comments 😉