One of the best bicep isolation exercises that you can do is the Preacher Curl.
However, most people do this exercise WRONG…
But I'm not pointing fingers at anyone, because up until very recently I was one of those people who screwed up and made a critical mistake when doing preacher curls.
Part of the problem with preacher curls is the actual preacher bench itself.
Most gyms have benches with flat angled arm pads such as the ones pictured below:
Typical Preacher Benches That You'll Find In Most Gyms…
These "modern" preacher benches are NOT designed the way the preacher bench was intended to be, they both have 1 major flaw…
You see old time bodybuilding legend Vince Gironda (aka The "Iron Guru") made the Preacher Curl popular way back in the mid 1900's. And the original preacher benches did NOT have flat arm pads like the benches shown above.
But rather the preacher bench is supposed to have a rounded arm pad such as the old-school preacher bench pictured below:
Old School Preacher Bench With The Rounded Arm Pad…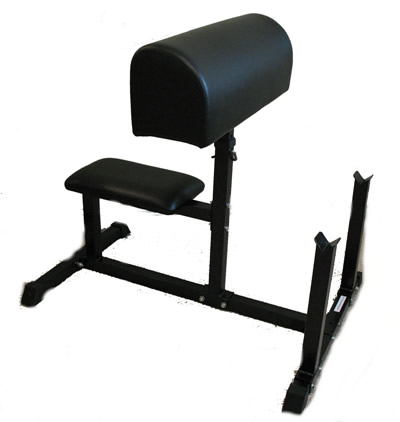 Having the rounded pad helps you to maintain proper upper body position as you do preacher curls. But regardless of what type of preacher curl bench you have at your gym, you can still make do and correct your technique using the tips that I cover in the video clip below…
---
Click PLAY To Watch Video
Note:

If for some reason you can't watch the embedded video here on this page,
then you can watch it directly on my YouTube Channel at:
http://www.youtube.com/watch?v=lYdgsCK92Zg

---
Basically, the big mistake most people make is they round over too much on the bench and rest the back of the arms totally flat against the pad. Now granted you can still work the biceps by doing this, but you are limiting the amount of weight you can lift, and you are also limiting the range of motion for the exercise.
However, if you keep your chest held high and hold your elbows just over the edge of the pad (as shown in the pictures and video) you'll get a much better muscle pump throughout the biceps and you may actually find that you can handle more weight with stricter form!
Give this preacher curl variation a try in your next bicep workout, and then leave me a comment below letting me know how it works for you… 😉
P.S.
And if you want to get some more interesting old-school bodybuilding tips & tricks, be sure to pick up a copy of the Vince Gironda Program at: www.VinceGirondaProgram.com

This book is jam packed with 334 pages of absolutely inspirational and fascinating info for any bodybuilding fan. It's one of those books that you can just get lost in…
Once you start reading, you won't want to put it down, it's that good!


And right now you can download a copy of this for yourself over at:


Vince Gironda – The Iron Guru & Trainer Of Champions!