Download Your FREE Bodybuilding e-Book below…
Hey there,
It's your muscle building coach Lee Hayward here and today I've got a FREE Gift for you from a couple of my friends Vince Del Monte & Ben Pakulski.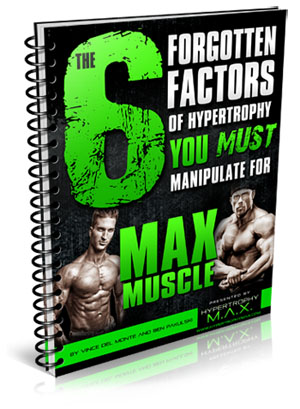 They are GIVING AWAY a killer 54-page muscle-building report that reveals 6 forgotten factors of hypertrophy for igniting serious gains in size and strength.
And since I'm a close friend of both Vince & Ben, they've allowed me to share this with my online followers.
This report is jam packed with a lot more muscle-building tips and tricks… You're going to love it…
6 Muscle-Building Strategies (FREE PDF) <<--Click To Download

Ben Pakulski and Lee Hayward @ The Arnold Classic.
I've been reading up and following a lot of Ben Pakulski's programs, videos, etc. and I have to say I'm very impressed. Even though Ben is Freakin HUGE, he trains Very Smart. His attitude towards training kind of reminds me of a modern day "Vince Gironda" with how he analyzes how the body works and figures out the BEST moves and bio-mechanical positions to train each individual muscle group.
You won't see Ben just slap the plates on the bar while grunting, swinging, and cheating the weights up. Each and every exercise he does if very methodical and well thought out. He is a "Thinking Man's Bodybuilder" and I like that!
Again, just read the free report at the link below to see for yourself…
6 Muscle-Building Strategies (FREE PDF) <<--Click To Download
Enjoy!