car·pal tun·nel syn·drome
A painful condition of the hand and fingers caused by compression of a major nerve where it passes over the carpal bones through a passage at the front of the wrist, alongside the flexor tendons of the hand. It may be caused by repetitive movements over a long period, or by fluid retention, and is characterized by sensations of tingling, numbness, or burning.
==============
People with carpal tunnel syndrome often experience numbness, tingling, and a dull aching pain in the hands, in particular the index, middle and ring fingers. This numbness and lack of circulation often leads to pain in the wrists and / or hands and loss of grip strength.
In this blog post you're going to learn some simple stretches and exercises that you can do at home to help treat carpal tunnel syndrome. I've been using these exercises myself for the past several years and they helped me to keep my CTS under control without having to resort to taking pain medication or getting surgery on my wrists.
The main thing that you need to do is stretch out your hands and wrists daily, even several times per day. This will help open up the transverse carpal ligament. This is the band across your wrist that holds the tendons in place.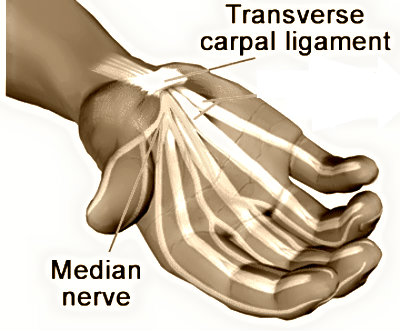 When the carpal ligament gets tight it pinches the median nerve and this limits the circulation to your fingers which causes that numb ache pain in your hands. Now the typical treatment for this is surgery and literally cutting the carpel ligament open. But the recovery from such surgery is long and tedious. Can you imagine living without the use of your hands for several weeks? That's basically what it's like recovering from carpal tunnel surgery.
I'd much rather take a couple minutes a day to do some simple stretches and exercises which will help with your overall hand health and mobility, rather than go through painful surgery and a long recovery process.
Just watch the video clip below to see the stretches and exercises that you can perform to help eliminate the pain of carpal tunnel syndrome. After you watch the video if you have any questions or comments, please feel free to post them in the comments section below and I'll chat with you there.
---
Click PLAY To Watch The Video:
NOTE: If you can't see the embedded video clip above,
you can watch it on YouTube by Clicking Here
---