Yesterday I trained legs and did something totally out of the norm that I'm not accustomed to doing…
I did a 100 Rep Squat Workout!
And let me tell you I'm feeling the after effects right now… I'm literally sore right from right my ass to my ankles. (And just to make sure we're all on the same page here, that muscle soreness was caused from the squat workout LOL) 😉
Now speaking of muscle soreness, I normally don't get sore anymore from my workouts. Generally as you get more advanced and in better shape physically, the less muscle soreness you'll experience. For the most part it's only beginners who really get that deep painful muscle soreness that lasts for days.
But when you change things up and do something totally off the wall that your body isn't used to, even advanced lifters can experience muscle soreness… Just like I am right now.
So this is how the 100 Rep Squat Workout went down…
I normally start off a leg workout with light high rep leg extensions to warm up my knees and get a pump going in my quads. Then I'll move on to a big basic compound exercise (squats, leg press, etc) and then finish up with some isolation exercises for the quadriceps, hamstrings, calves, etc.
Now yesterday I started off just like a "normal" leg workout, it began with 100 total reps of light leg extensions to warm up my legs. I do these in a rest pause fashion, so I'll bang out 20 reps or so, rest for 10 or 20 seconds, bang out another quick set, rest pause, etc. and keep going until I get a total of 100 reps. This is great warm up for anyone who has knee problems and it also helps pre-exhaust the quads before getting into the actual workout.
Then I moved into the meat and potatoes exercise of any leg workout, the barbell squat. After several progressively heavier warm up sets I worked up to doing 5 sets of 5 reps. I really like the 5×5 rep range for big basic power moves like squats, benches, and deadlifts.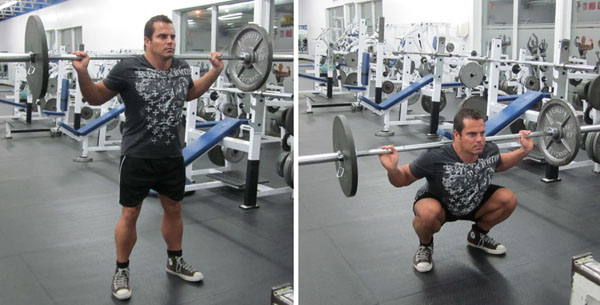 Barbell Back Squats
After the squats I thought, "Oh what the heck, I'll do some front squats too"… So I did a couple progressively heavier warm up sets and then went ahead and did 5 sets of 5 reps of front squats. I'm normally not a big fan of doing front squats because I find it uncomfortable holding the bar across my front shoulders. But I said to myself… "Lee, don't be a pussy, suck it up and just squat like a real man." So I did…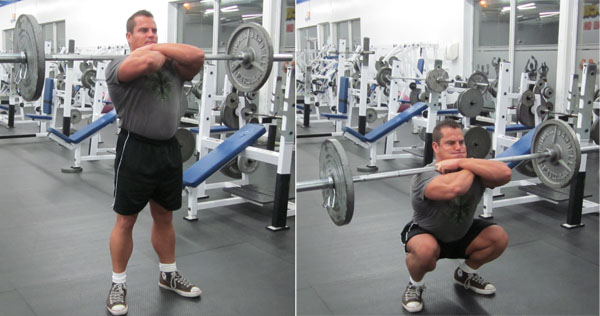 Barbell Front Squats
With the completion of back squats and front squats I was feeling pretty good about myself! You know how you start to get that natural high once the endorphins are flowing from good old fashion hard workouts… Well that's kind of how I was feeling at this point.
As I was walking away from the squat rack and heading over to the water fountain for a drink, I had to pass by the hack squat machine. After quenching my thirst at the fountain, the thought crossed my mind… "Why not just do an entire squat workout! The hell with doing any isolation exercises, I'm just going to do a shit load of squat variations!"
So over I went to the hack squat machine and I went through the same pattern again… Several progressively heavier warm ups and then on to 5 sets of 5 reps of hack squats.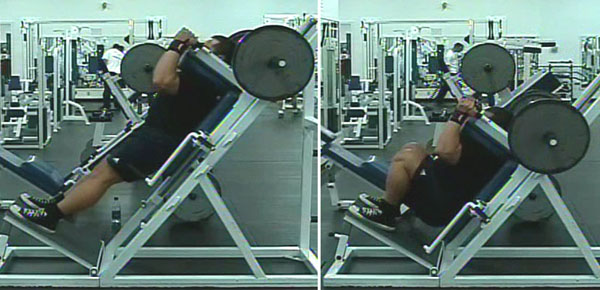 Hack Squats
You'll notice that I always do lighter warm up sets for every big basic exercise before attempting maximum weight. I even do this when I'm already in the middle of a workout and physically "warmed up". The idea here is to get my body in the groove of doing the exercise before pushing myself with heavy weight. Chances are you've probably noticed in your own workouts that when doing multiple sets of an exercise that it's usually not until the 3rd set or so that you really feel solid and "in the groove" with that exercise. So that's why it's important not to skip on your warm ups, they will help you get ready mentally and physically to give it your all when it's time to do your heavy working sets.
After banging out 5×5 of the hack squat my legs were starting to feel like jelly. The muscle soreness was already setting in, and I hadn't even left the gym yet!
I stopped for a few minutes to rest and review what I've done thus far in my leg workout…
-> 5 sets of 5 reps of barbell back squats.
-> 5 sets of 5 reps of barbell front squats.
-> 5 sets of 5 reps of hack squats.
That's 75 heavy working reps of squats!
That is quite an intense leg training session right there… But I thought to myself,
"Why not go all out and make it an even 100 Rep Squat Workout?!".
I started scanning the gym and looking for another squat variation that I could do…
I could use the smith machine, but that would basically just be repeating what I've already done with a barbell… I could do some sort of box squat variation, but honestly at this stage of the workout the thought of getting under the bar again wasn't that appealing. I mean I was getting tired…
But I still wanted to hit that magic 100 rep squat workout. If nothing else it would give me some sort of weird satisfaction of having done 100 squats, and I could even write up silly blog post about the whole thing and you would probably take the time to read about it on the Internet *wink* 😉
While I was thinking it over and catching my second wind during the little rest break. I decided to finish off with Jump Squats! Doing some explosive plyometrics would provide totally different muscle stimulation than the exercises I've done so far, but I would complement the workout nicely. The cool thing about plyometric exercises like jump squats is that you can exert 100% maximum effort with every single rep. After all you explode up and literally jump as high as you can!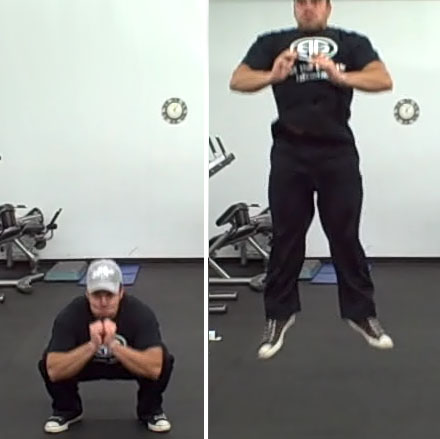 Bodyweight Jump Squats
So to finish off the squat workout and get my 100 total reps I did 5 sets of 5 reps of jump squats. But I didn't just bang them out as quickly as I could, instead I took my time resting at least 2 minutes in between each set so I could really exert every last bit of strength and power that I had left in my legs at that point. It was an awesome finisher to my awesome leg routine!
In fact I've posted up a quick YouTube video of the Jump Squats that I did during this exact workout below:
Click Here To Subscribe To My YouTube Video Channel.
So to recap the workout…
Start off with 100 reps of light leg extensions done in a rest pause fashion to warm up the knees.
Then do the following exercises, making sure to do as many progressively heavier warm ups as you need before lifting your top working weight.
Barbell Back Squats: 5 sets of 5 reps
Barbell Front Squats: 5 sets of 5 reps
Hack Squats: 5 sets of 5 reps
Jump Squats: 5 sets of 5 reps
That's a total of 100 reps for an absolute leg trashing muscle blasting workout!
If you'd like some other killer leg workout routine. I'd highly recommend that you try
the "Blast Your Squat" program.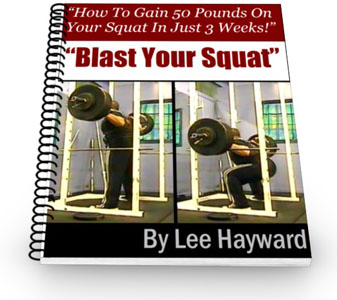 This is an extra bonus workout that is included for FREE when you pick up a copy of my "Blast Your Bench" program. This is an awesome routine for making rapid fast strength gains. In fact a lot of guys who have already followed this program have gained as much as 50 pounds to their max squat with just a single cycle through this workout.
For more information and to get your copy, just visit: http://www.BlastYourBench.com