Quick Question…
What Is YOUR Most Stubborn Body Part To Develop?
Submit your answer below and get a Special Bonus!
You're going to get a FREE Copy of the Muscle Specialization Training Guide. This is a complete 104 page e-Manual that covers unique muscle building specialization exercises for each and every body part.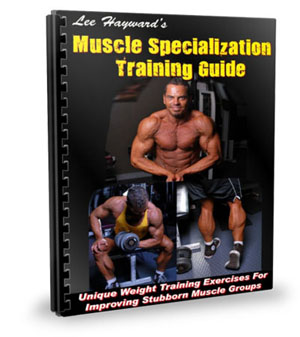 You owe it to yourself to check out this killer program. Just enter your name and e-mail address in the form below and I'll send you a FREE copy of this e-Book ASAP and I'll also keep you up to date with all my latest muscle building tips and tricks that will help you build rock solid muscle mass faster than ever before.
(Your Muscle Building Coach)
If you could INSTANTLY improve any body part which one would you choose?
Please choose ONE body part from the list below:
Chest
Biceps
Triceps
Back
Shoulders
Abs
Quads
Hamstrings
Calves
Just enter your name & e-mail address in the form
and submit your answer to receive your "FREE Gift"…