If You're Fed Up With Being Overweight & Out Of Shape
Then My Advanced One-On-One Coaching Is For YOU
This is NOT Another "Fad Diet" or "Quick Fix" Program
…It's A Proven System For Making Lasting Change!
Imagine waking up each morning feeling strong, energetic, and proud of what you see in the mirror…
With this advanced muscle building and fat loss coaching program I'm going to personally help you develop the skills and lifestyle habits that will transform your mind and body. You'll lose fat, build muscle, increase your strength, and have more energy… But more importantly – you'll learn how to maintain your results for life!
Let's face it, you already "know" what you should do in order get in shape – all the basics of exercise, eating right, drinking plenty of water, etc… But for some reason you just can't get yourself to follow through and do what you know you should be doing, or at least not doing it consistently enough to get lasting results.
Unfortunately, when most people want to lose weight they resort to "Fad Diets" and "Quick Fix" solutions. The problem with these programs is that they only focus on short term results. Anyone can temporarily lose weight if they starve themselves, but the results never lasts long term. If you've ever lost weight on a diet, only to re-gain it all back again, then you know what I'm talking about.
Instead of the short term all-or-nothing approach, we use a proven, sustainable, practice-based approach that will change the way you think and feel about food and exercise. We're going to start small, keep it simple, and progressively build healthy nutrition and exercise habits into your life, one day at a time.
The result? You'll lose the stubborn fat you haven't been able to shed for years. You'll build solid muscle, increase strength, and gain confidence. And you'll get into awesome shape, without other parts of your life taking a back seat.
You will develop the knowledge and skills required to feed your body the quality nutrition it needs without feeling hungry or deprived. We use a balanced and sustainable approach that will allow you the flexibility to eat out in restaurants, enjoy family dinners, and social gatherings – without sabotaging your fat loss progress.


Advanced Fitness & Nutrition Coaching Right At Your Finger Tips…

In order to provide you with the best quality service, I've teamed up with Precision Nutrition to use their habit based ProCoach coaching platform – which you can access from your computer, tablet, or smart phone.
The ProCoach system breaks everything down for you on a day-by-day basis. Rather than bogging you down with too much, too soon, and feeling overwhelmed. You'll start off small and just take it one day at a time.
Your program includes a custom nutrition plan with portion control. Custom workouts based on your exercise preferences and fitness goals. Grocery shopping & meal prep guide. Along with additional tips to help ensure your success.
Everyday you'll get a short lesson, a workout, and a daily nutrition habit to practice. Then you'll check off things such as; did you follow through with your daily nutrition habit, did you follow through with your workout, etc. and based on your responses – your program will be further tailored and customized as you go.
These little daily check-ins will simplify the process, help hold you accountable, and keep you on track towards your fitness and fat loss goals. It's a brilliant system that customizes everything to YOU and your specific needs.
And the best part is that you won't do it alone, because I'm going to be your personal coach following along with your progress every step of the way. If you need help with anything, have any questions, or if you just want to chat about your program – you can contact me directly and I'll be happy to help you out and offer support.



Follow A Proven System To Help You Get (and keep) The Body You Want…
Here are some people who've experienced incredible transformations using the PN ProCoach Platform…
With this system you'll be getting the best in cutting edge fitness and nutrition coaching technology – along with my 27+ years of real world in the gym bodybuilding & fitness experience – combined to help create positive eating, exercise, and lifestyle habits that will move you day by day in the right direction towards reaching your fitness and fat loss goals.
---
Eligible To Enter The $20,000 ProCoach Body Transformation Contest!
By working with me and following this program you'll have the opportunity to enter the ProCoach Body Transformation Contest which happens every year. To enter you'll need to first follow the program, get in your best shape, and then fill out a short submission form sharing your progress.
The judges will be choosing the winners based on:
- Progress updates (weight, girth, photos).
- Consistency with following the program and daily habits.
- And your own personal story of overcoming adversity and challenges and getting in your best shape.
A total of $20,000 in cash prizes will be awarded over 8 different categories:
Men - Transformation - 34 years and under
Men - Transformation - 35-59 years
Men - Transformation - 60 years+
Men - Best Success Story (any age)
Women - Transformation - 34 years and under
Women - Transformation - 35-59 years
Women - Transformation - 60 years+
Women - Best Success Story (any age)
The reason for this contest is just an extra motivational boost to get you to follow through and do what you already know you should be doing. So, in addition to getting profession coaching with losing fat, building muscle, improving your health and fitness... You'll also get to shoot for something extra awesome!
---
Price...
The price for this advanced fitness and nutrition coaching is only $97/month, or $997 for a full year if paid up front. For about $3 per day you will get a proven system to help transform your body and life. You're not going to get a better return on investment than you will by investing in your health and fitness. Trust me, it will be the best investment you ever make. It will not only improve your life, but it will improve the lives of those around you and the people you impact as well.
If you're ready to get the body you deserve and take in control of your health and fitness once and for all, I'm here to help. You've tried doing it alone. Now try with someone who's ready to bring a level of commitment that's as serious as your own.
Let's make 2018 your best year ever!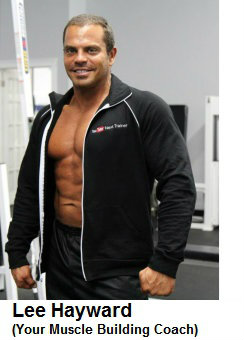 If you have any questions or problems submitting your order, please e-mail me at: Leeh@LeeHayward.com
---