If You Want To Develop Serious Hand Strength For Sports,
Or Just Want To Impress Your Friends, Then Training With
Heavy Grips Hand Grippers Is The BEST Choice For You!
The
Heavy Grips
hand gripper series was developed for athletes who want to take the training of their grip strength to the next level. These heavy-duty hand grippers allow you to train your grip and actually gain strength using low repetitions instead of doing endless reps with plastic handled department store hand grippers.
These high-quality aluminum-handled handgrippers are made in 50 pound increments from 100 pounds of tension to a whopping 350 pounds pounds of tension! So that you can train your grip similar to training any other bodypart — by increasing resistance. These grippers are not just a novelty… they really work and have helped thousands of athletes improve their game.
The Heavy Grips are manufactured using high-grade aluminum for the handles, which are machine-knurled, then chromed. This allows users to get a good grip on the handles while not being too rough on their hands. Our heavy duty springs are electrophoretically coated to resist rust and surface damage.

These are the perfect hand grippers for Arm Wrestlers, Powerlifters, Strongmen, Bodybuilders, Martial Artists, MMA Fighters, Tennis Players, Baseball Players, Fireman, Police Officers, Rock Climbers, Gymnasts, Musicians, and anyone else who wants to develop a strong crushing grip and muscular hands, wrists and forearms.

How to add 1 inch to your forearms in just 90 days.

I always had problems holding on to heavy dead lifts and shrugs. I had lots of pulling power, but I just couldn't hold on to the bar without lifting straps.

In May 2004 I ordered the full set of Heavy Grips hand grippers to strengthen my grip. When I got the grippers I could barely close the 200 lb. gripper, and could hardly budge the 250 lb. and 300 lb. grippers. But I set a goal then and there that I would close the 300 lb. gripper before the end of this year.

I faithfully trained the grippers 3 times per week (after my workouts). Focusing a lot on doing heavy negatives with the harder grippers. Week by week I could see my grip improving. I moved up to closing the 250, and in July I was able to fully close the 300 lb. hand gripper!

I am amazed at how fast my grip strength went up by training with the Heavy Grips hand grippers. I thought for sure it would take me a full year to be able to close the 300 lb. gripper, but I was able to achieve that goal in less then 3 months! I have also added a solid inch to my forearms during this time.

Now when I do heavy dead lifts or shrugs my grip is solid and I hardly ever need to wear lifting straps as a crutch. My grip has never been this strong and it was all a result of regular training with the Heavy Grips hand grippers.

Lee Hayward



Note:

Since this Heavy Grips has created a new 350 pound hand gripper.
---
Click Play To Watch A Demo Video Of
How To Use Heavy Grips Hand Grippers:


---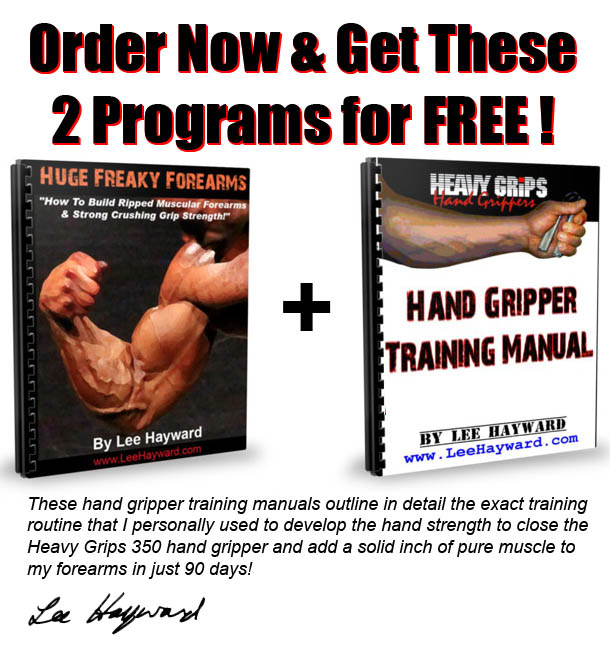 Order any Heavy Grips Hand Gripper and get Huge Freaky Forearms & The Hand Gripper Training Manual for FREE!


Note: These bonus programs are PDF downloads that you'll get right after you place your order!
---
Hand Gripper Price List:
Order 1 Heavy Gripper
Only: $15.95

Regular Price: $19.95
Special – You Save: $4.00

Click Here To Order

Order 2 Heavy Grippers
Only: $29.95

Price Per Gripper = $14.97
Regular Price: $39.90
Special – You Save: $9.95

Click Here To Order


Order 3 Heavy Grippers
Only: $42.95

Price Per Gripper = $14.31
Regular Price: $59.85
Special – You Save: $16.90

Click Here To Order

Order 4 Heavy Grippers
Only: $54.95

Price Per Gripper = $13.73
Regular Price: $79.80
Special – You Save: $24.85

Click Here To Order

Order 5 Heavy Grippers
Only: $59.95

Price Per Gripper = $11.99
Regular Price: $99.75
Special – You Save: $39.80

Click Here To Order

Order All 6 Heavy Grippers
Only: $67

Price Per Gripper = $11.16
Regular Price: $119.70
Special – You Save: $52.70!

Click Here To Order
---
Heavy Grips Testimonials:
---
Just wanted to give a little testimonial on my experience with the Heavy Grip Hand Grippers. I've been strength training on and off for years, and used to train in MMA. I initially purchased the 200 LBS hand gripper a few months back, and was hardly able to squeeze out several reps, so I demoted myself to the 150, worked my way up to the 200, and am now squeezing out 8-10 reps on the 250 pounder after just a few months. I'll be purchasing a 300 pounder soon enough, and then hope to graduate to the 350. Thanks for the excellent product. I was able to up the weight in my kettlebell training due to my increased grip strength. Thumbs up!
Ray Baron
---
Hi Lee,
I just got the 200lb hand grip today. Thanks for the super fast shipping. Boy this thing is tough! I guess I'm not as strong as I thought I was. I'm probably going to buy a 100lb one & work my way up to this one. I drive a cab all day & like to do this while I'm driving. I usually do reps of 25-30 with the cheaper plastic handle grippers. The last pair I had just snapped from over-use I guess. Anyway,thanks for your excellent service & a well built tough product.
Regards,
John T. Roderick
---
"The HeavyGrips are awesome and they have added a lot to my training in the last few months."
— Curtis Dennis Jr. — Bodybuilding.com author.
---
These grippers definitely kick some major ass!! I bought all five Heavy grippers three months ago and could barely squeeze the HG150. Today I squeezed out five full reps with the HG250… but still have 1/2″ to go for the HG300 🙁
Jay "I'm Gonna Crush the HG300 Soon" Smith
– California, USA
---
"I tested all five models and liked them a lot. I crapped out on the 250-pound model, just couldn't quite close it. The 300-pound model? No way, not even with two hands!"
— Chris Shugart — Testosterone Magazine.
---
"The quality of your handgrippers is second to none and I've tried them all. There are other grips with just as good quality, but they don't have the $avings in the package deals like yours. I've been using the Heavy Grip grippers in my training for a return to the sport of armwrestling."
— Ken Faragher — '96 & '98 Canadian Arm Wrestling Champion.
---
"These are the best hand grippers I've ever used!!"
— Fred Roisen — Armwrestling Champion.
---
I am 17 years old and have been weightlifting since I was 15. I first got the 150 HeavyGrip and the HG 200 when I turned 17. I closed the HG150 easily out of the box but couldn't even close the 200 once…. Now I am using the HG200 for reps and can get the HG250 3 times!! I am currently working on the HG300 and hope to have it crushed by my 18th birthday! Thank you so much for making such a great product! I know I will continue to use these for the rest of my life!
Thanks,
Robbie George
---
I just wanted to let you know that I received my set of Heavy Grippers (man, that was fast!) and am really impressed with both their quality and the range of strength required to close each gripper. Although I am relatively new to the grip world, I have had occasion to use other grippers and working with the HGs, I am finding that having a balanced set of grippers is allowing me to really plan my training and monitor my progress. I especially like the 50 lbs increments as I can move up gradually, and the range offered by your grippers provides me with a gripper for every need, be it higher reps, overcrushes, singles, or negatives. These babies are silky smooth and built to last, Thanks!
Chris J Cook
— Manitoba, Canada
---
I have your 150lb gripper and it's awesome! I could hardly close it when I first got it now I can easily close it 20 times and am ready to step up to the 200lb gripper.
-Brock Lambert-
– Thunder Bay, ON, Canada
---
I would just like to express my appreciation for your Heavy Grips products. I've already had one of them for 2 months now and my brother just purchased all of them as a set. They really are a great workout tool and they are very addictive. I am determined to get to the highest level of resistance!
Keep it up and thanks again!
Chris Guzman
-New York, NY
---
Not Sure What Strength Of Gripper To Get?
– Check out our gripper guide below…
HG 100 "Beginner" – At the first squeeze, the HG100 may not seem to be much tougher than a store-bought plastic hand-gripper, but it's smooth action and aggressive knurled grip can be deceiving. The "Beginner" is perfect for consumers beginning their 'grip training' as well as younger athletes, female athletes, athletes with small hands and warm-ups for stronger athletes.

HG 150 "Intermediate" – Consumers that have a fairly strong grip can usually squeeze out a few reps with the HG150, but it can be difficult for females and younger athletes although those athletes can easily work up to the HG150 in a short time with consistent training. Most athletes with consistent HG training will find that the HG150 only provides resistance for 3 to 15 reps for 2 to 6 weeks and they are ready to step up to the HG200 or beyond because the hand responds so well to resistance training with low repetitions.

HG 200 "Advanced" – The HG200 is the level that even athletes with a naturally strong grip may have trouble closing. Athletes with advanced grip training will not have too much trouble with the HG200, but those with no grip training experience will most likely find it very difficult to close the HG200 at the beginning of their training. When you are closing the HG200 for reps, your performance for any sport using your hands will be greatly enhanced.

HG 250 "Professional" – When you are closing the HG250 for reps, you will have to be very careful when shaking people's hand! If you can close the HG250 once, your hand strength is well beyond the average athlete. Usually only athletes with a hardcore grip training regimen and people who do heavy work with their hands can close the HG250 on their first attempt. Just because you have lifted weights for a few years, don't assume that you will be able to close a HG250. It's much harder than it looks!

HG 300 "The Gripper King" – Although there are well over 50,000 HG300's on the market, we estimate that there are less than 1000 athletes world-wide that can do reps with this hand grip although most male athletes (and there have been a couple of women) with an average-sized hand can build up their hand-strength to close a HG300 for at least one rep if they train regularly with the Heavy Grips. The key to closing the HG300 is consistency with your hand-strength training and avoiding over-training (Don't train with your HG's more than twice per week or when your hand is still sore from your last workout)

HG350 "The Grip Monster" – The newest addition to the Heavy Grip line-up! The HG 350 came at the request of some very strong athletes who complained that the HG300 was not "tough enough!" Although there have been some very strong athletes doing reps with the HG300, we haven't had anyone tell us that the HG350 was too easy! If you can close the HG350, your hand strength is definitely 'world-class'.
---
Frequently Asked Questions
Q: Which gripper should I start with?

A:

The HeavyGrip(HG)100 is mostly used as a warm-up gripper or for grip beginners. We recommend this gripper for females, young athletes and people with a weak grip. It is also a very high quality gripper for stronger people who like to do a lot of repetitions. That's why it's called "The Beginner".

Most strong people can do reps with the HG 150 – "Intermediate" and find that the grips become really difficult at the HG 200 level and people of average hand strength have trouble closing the HG 200 for reps or the HG250 once. When training their hand like other bodyparts with reps under 20, most people are surprised at how fast they can master the HG 200 and HG250 and are ready to step up to the HG 300 or HG 350.
---
Q: Can I exchange my gripper for a stronger or weaker gripper?
A: If you feel like…
"The HG150 was not as tough as I had thought" or "I'll never be able to close the Heavygrip 350".
Don't worry because we have a two-week no-hassle return policy, which is supposed to be for those that aren't happy with their grippers for whatever reason. However, you are responsible for all the shipping and handling costs associated with returning your current grippers and re-sending you the new grippers. It is not our fault if you choose the wrong hand gripper. And very often it maybe just as cost efficient to simply purchase the new gripper you want rather then paying for shipping and handing on both ends.
---
Q: How should I train with the Heavy Grippers?
A: Our handgrippers are designed for building superior hand strength. To do this you must train your hand similar to any other body part and use low reps. You will not develop a super strong grip by doing a lot of repetitions. Like any other bodypart, don't forget to warm-up and stretch your hands.
Keep the reps in the range of 5 to 25. If you are able to do 15 to 25 reps with a particular strength of gripper, it is a good time to move up to the next level of gripper. Even if you aren't able to close the next level you can do partials, forced reps and assisted negatives until you are fully able to close it. The average person has trouble being able to close the HG200 on the first try and many report after a couple of months of training they are easily closing it for reps.
When you are able to close your lighter grippers for more than 25 reps, you can use them for warm-ups and for "super-sets". An example of a "super-set" would be to use the HG250 for 2 reps, then the HG200 for 8 reps, then the HG150 until failure, then the HG100 to failure.
---
Q: I don't have a credit card, can I order the Heavy Grippers by mail order?
A: YES, you can order the Heavy Grips hand grippers by mail order. Just Click This Link to print off our mail order. The order instructions and address are right on the mail order form.
---
100% Money Back Guarantee + A Lifetime Warranty!
Heavy Grips hand grippers carry a Lifetime Warranty to the original purchaser. We will replace free of charge any Heavy Grips handgripper that has broken or malfunctioned through normal use. Unlike most companies, our Lifetime Warranty means a "lifetime". If your gripper spring breaks 15 days, 15 months, or even 15 years from now, we will send you a new gripper, at no expense to you, right away.
Click Here To Order!
---
| | | |
| --- | --- | --- |
| | Our Online Order System Is Safe & Secure And Your Purchase Is Backed With Our 100% Satisfaction Money Back Guarantee. | |